Note: I get commissions for purchases made through links in this post.
If you go looking for a DuroStar website, you won't find one. What you will find instead is Generator Factory Outlet (GFO). According to that site…
"Generator Factory Outlet is the factory direct source for DuroMax and DuroStar's quality line of Generators, we're open online 24 hours a day, 7 days a week."
Some of the descriptions on their site refer to "Factory Authorized Outlet" (FAO). My guess is that is what GFO used to be called, and they just haven't changed all the references online.
According to their Facebook page, they are based in Ontario, California. It looks like their first post on Facebook was in 2012, but according to the BBB, they have been in business for over 25 years.
Now that we know a little more about the source of DuroStar generators, let's take a look at the machines themselves.
If you are in a hurry and just want to check the availability and pricing on Amazon of the five models that I'll review here, you can click the links below.
If you want to skip ahead to a specific section of the review, you can click a link in the box below. Otherwise, you can just keep scrolling and reading as usual.
What Are the Main Features of DuroStar Portable Generators?
To see what you get inside and outside a DuroStar and to easily compare them to one another, check out the table below. Following the comparison, I'll dig a little deeper into the differences of each model.
Model
DS1050
DS1500
DS4000S
DS4400E
DS10000E
Peak / Starting Watts
1050
1500
4000
4400
10,000
Running Watts
950
1200
3300
3500
8000
Engine Type
2 HP, air cooled
2.5 HP
7 HP, air cooled, OHV
7 HP, air cooled, OHV
18 HP, air cooled, OHV
Displacement (cc)
n/a
n/a
208
196
420
Fuel Tank Capacity (gal.)
1.06
1.59
4.0
4.0
8.3
Start Type
Recoil
Recoil
Recoil
Electric / Recoil
Electric / Recoil
Run Time (hrs.)
6*
8*
8**
8**
10**
Weight (lbs.)
39
39
n/a
n/a
n/a
Decibels
n/a
n/a
69
69
72
Receptacles
1 120V
1 120V (more?)
2 120V 20A Standard;
1 120V 30A Twist Lock
2 120V 20A Standard;
1 120V/240V 30A Twist Lock;
1 12V 10A Utility
2 120V 20A Standard;
1 120V 30A Twist Lock;
1 120v/240v 30A Twist Lock;
1 120v/240v 50A Heavy Duty;
1 12V 10A Utility
Warranty
1 yr. Ltd.
1 yr. Ltd.
1 yr. Ltd.
1 yr. Ltd.
1 yr. Ltd.
*It is not stated whether these models are rated at full, half, or quarter load.
**Rated at half load
As you can see, GFO is a little spotty when it comes to providing data for engine size and weight. The rated run time is questionable for the smaller generators, and I'm looking at pictures for the DS1050 and DS1500 units to try to determine how many receptacles each has.
The DS1050 looks like it only has 1 receptacle. The DS1500 might have as many as three. (Even the pictures I could find aren't that clear.)
In addition to the above items in the table, all five models have low oil shutoff mechanisms to protect the engine should the oil level drop too far. They all have a spark arrestor so you can safely use them in parks, campgrounds, and jobsites that require this feature to prevent fires.
DuroStar DS1050 Portable Generator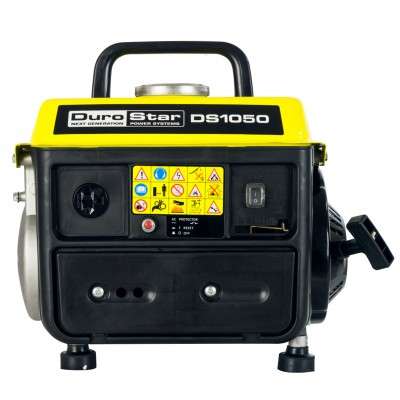 GFO suggests using the DS1050 generator for small appliances, power tools, stereos, lights and fans.
You can use it in all 50 states, and since it has the spark arrestor mentioned above, you can also take it to National Parks and Forests.
The engine is a 2-stroke machine that requires a 50:1 oil to gasoline mix. You get a tool kit and owner's manual in the box, in addition to the generator itself.
DuroStar DS1050
Check the pricing and availability of the DuroStar DS1050 generator at Amazon.
DuroStar DS1500 Portable Generator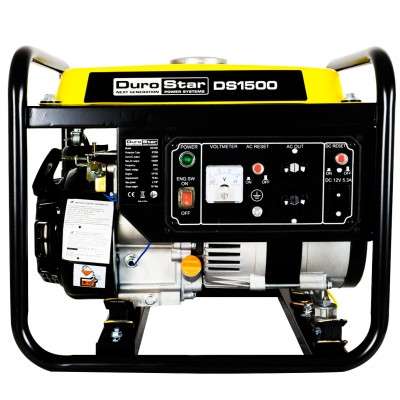 Here is a generator that's great for tailgating, for taking along in your RV, and even for smaller tasks at the jobsite.
Like the DS1050, it is safe to use in all 50 states. Besides the tool kit and manual, you also get a set of DC charging cables.
DuroStar DS1500
Check the pricing and availability of the DuroStar DS1500 generator at Amazon.
DuroStar DS4000S Portable Generator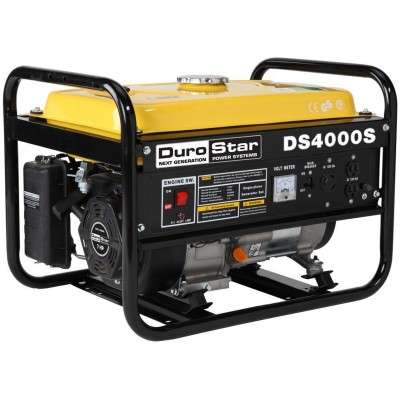 The DS4000S is one of the most highly-rated generators based on user feedback. It has a front panel that is a little more involved than anything found on the smaller models. The "Power Panel" has the Engine Shutoff switch, Volt Meter, and Circuit Breakers to make working with the machine less of a hassle.
This DuroStar generator can operate anything from air compressors and air conditioners to basic home power, such as lights and a fridge.
Since the DS4000S is a little on the larger size, it also is available with a optional wheel and handle kit, to help with transportation.
DuroStar DS4000S
Check the pricing and availability of the DuroStar DS4000S generator at Amazon.
DuroStar DS4400E Portable Generator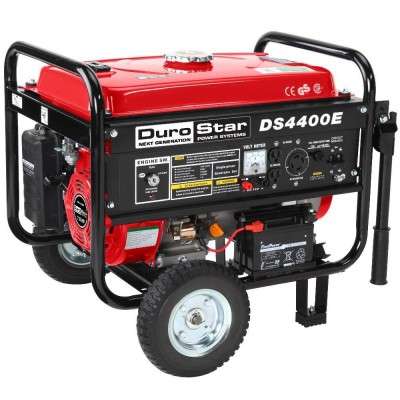 According to GFO, "The DuroStar DS4400E 4,400 Watt Generator is the #1 selling Generator available from DuroStar." With that in mind, you might want to give this model a little extra time and thought. (That said, the DS4000S has many more online reviews and has just as good an overall rating.)
This is the first of these models to offer an electric starter. As usual, there is a recoil (pull cord) backup in case the battery is dead. Speaking of the battery, GFO doesn't mention whether or not you get a battery with the DS4400E. (It is stated that you do get one with the DS10000E described below.)
This is also the first DuroStar model in this list to have an RV Switch (Voltage Selector). You use it to get maximum power from each of the 120 Volt receptacles. You can choose between operating the generator at both 120V and 240V simultaneously, or at 120 only with full power. GFO recommends that you keep the Voltage Selector switch in the 120V position unless 240V is actually required.
You get a wheel kit with a handle for this larger unit to help keep the "portable" in "portable generator". You wouldn't want to try lifting the DS4400E by yourself.
The tires in this kit are "extra large" 8 inch pneumatic, knobby-style, solid-fill tires. They are built to handle a generator of this size and weight. You can flip up and stow away the handles when you're not toting it around.
DuroStar DS4400E
Check the pricing and availability of the DuroStar DS4400E generator at Amazon.
DuroStar DS10000E Portable Generator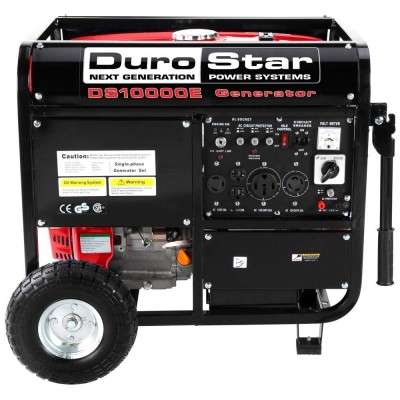 GFO says that the DuroStar DS10000E is the "most powerful" that they currently offer. This is roughly in line with generators from other manufacturers at the high end of their portable lines. You generally can't go much higher than this and still call yourself a portable machine.
As noted in the table above, the sound level on the DS10000E is a relatively loud 72 decibels. However, that drops to around 45 decibels while idling with no load. 45 is very quiet.
This Idle Control (aka Auto Throttle) kicks in at varying loads (not just at no load) to help with fuel efficiency, in addition to noise control.
As I mentioned earlier, this electric start model does come with a 12V battery. Like all electric models, it does have a recoil backup start should the battery ever fail.
DuroStar DS10000E
Check the pricing and availability of the DuroStar DS10000E generator at Amazon.
What's the Verdict on DuroStar Portable Generators?
Online reviews of DuroStar machines are overwhelmingly positive. Speaking of the noise level of the DS4000S, one owner says this.
"The unit is QUIET! Very quiet. I would even go as far as to say that my lawn mower is louder than this generator. I was able to put my head right next to the generator without issue, and I could not hear it running from inside of my house. Very impressed with the volume!"
The same reviewer also says, "Bottom line – if you treat this generator right and maintain it, it should return the favor and save your butt in times of need."
If you're looking at the DS10000E, consider what this user was able to do.
"I have a 1100 sq. foot home and it powered up every light in the house along with 2 TVs 52″ & 32″, stereo, Xbox, two Direct TV boxes, CD player, Keurig coffee maker, Kenmore Elite Trio fridge, electric stove (only tried one element on the stove), and my oil burner." [Edited for grammar and spelling]
The DS4400E is also highly rated – just don't overfill the gas tank. Doing so can cause problems because gas can leak out the vent which is near the top of the tank instead of being part of the cap.
If a DuroStar isn't what you're really looking for, check this overview of some Generac models instead.