Note: I get commissions for purchases made through links in this post.
Westinghouse is a prominent brand name in many areas. Perhaps you didn't even know they also manufacture portable generators. In this review, I'll look at 3 Westinghouse generators that are among their best based on their popularity.
As with many producers, Westinghouse makes a full line of generators. The models I'll examine here are one from the lower end of the power range (the 2200 watt) one from the midrange (the 4500 watt) and one in the higher range (the 7500 watt).
If you're in a hurry and just want to check the availability and pricing of these Westinghouse portable generators at Amazon, you can click the links in the list below.
If you want to skip ahead to a specific section of the review, you can click a link in the box below. Otherwise, you can just scroll and read as usual.
Westinghouse WH2200iXLT Inverter Portable Generator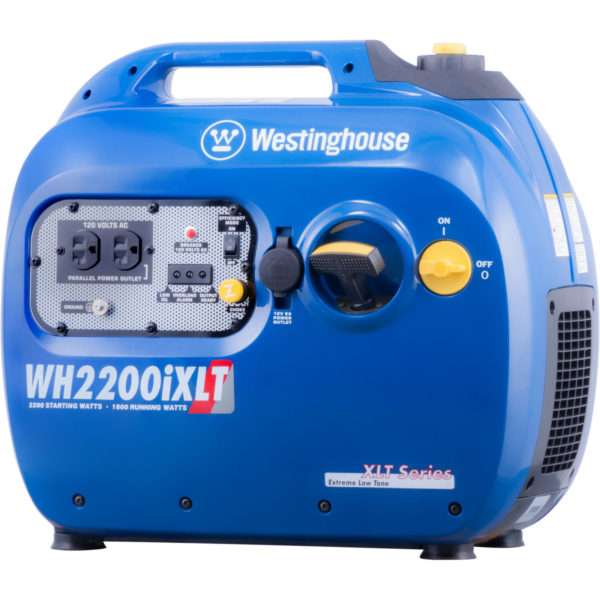 The model WH2200iXLT is a Westinghouse generator that uses inverter technology. This technology makes it significantly quieter than standard models.
It produces fairly clean power with less than 3% total harmonic distortion, so it should work fine with your more sensitive electronics such as a computer.
The engine that powers the unit is a Westinghouse 4-stroke, overhead valve (OHV) machine with a displacement of 79cc. I like the fact that Westinghouse uses its own engines in their generators. Not every company is even capable of doing that.
While the generator gives you 2200 watts at startup (thus the 2200 in the model number), you will get only 1800 running watts. This is normal for a portable generator, so make the calculation of your power needs accordingly.
The fuel type for each of these machines is gasoline. The 1.3 gallon gas tank of this first model should provide about 13 hours of power at ¼ load. Remember that during a time of great need you may be running more that ¼ load, so don't expect 13 hours of use before adding more gas to the tank.
This model is both EPA and CARB compliant so you can run it in all 50 states.
The receptacles available are 2 duplex, 120 volt AC outlets. If you look closely at the picture, you will see that the second outlet is labeled "parallel power outlet". You can chain two of these generators together to double your power easily.
The WH2200iXLT measures 20.25 inches long by 12.5 inches wide by 15.25 inches high. It weighs 43 pounds. As you should expect, units providing less power are smaller in size and weight.
Westinghouse suggests the following possible uses for both the 2200 model, noting that you won't be able to power all of these items at the same time.
Refrigerator or Freezer (Energy Star)
Microwave Oven
Crock Pot / Slow Cooker
TV / DVD Player
Mobile Phones
Computer / Laptop
Incandescent Lights
Radio / Stereo
Fan
Hair Dryer
Coffee Maker
Garage Door Opener
Watch the video below from Westinghouse to see the WH2200iXLT in action.
Westinghouse WH2200iXLT
Check the pricing and availability of the WH2200iXLT at Amazon.
Westinghouse iGen4500 Portable Generator
The Westinghouse iGen4500 is also an inverter generator like its smaller cousin above. It provides 4500 starting watts and 3700 running watts, so you can power just more at one time than the model above.
The 3.4 gallon gas tank is rated to give you 18 hours at ¼ load. The Westinghouse OHV 4-stroke engine inside has a displacement of 224cc and has an automatic choke and push-button electric starter with wireless remote (a key fob) capability.
The LED display shows you runtime, remaining fuel, load/output, volts, and lifetime hours to keep you up-to-date with the status of your generator. It has automatic low-oil shutdown and overload protection to keep your purchase safe.
This 4500 watt model is compliant CARB, so you can legally use it in California.
For receptacles, you get 1 duplex, 120 volt AC outlet, 2 USB ports, and one 120 volt TT-30R port. The battery is included, and Westinghouse gives you a 3-year limited warranty for residential use (1 year for commercial).
This is a hefty unit, weighing over 100 pounds – thus the handle and built-in wheels to keep it portable.
Westinghouse iGen4500
Check the pricing and availability of the iGen4500 at Amazon.
Westinghouse WGen7500 Portable Generator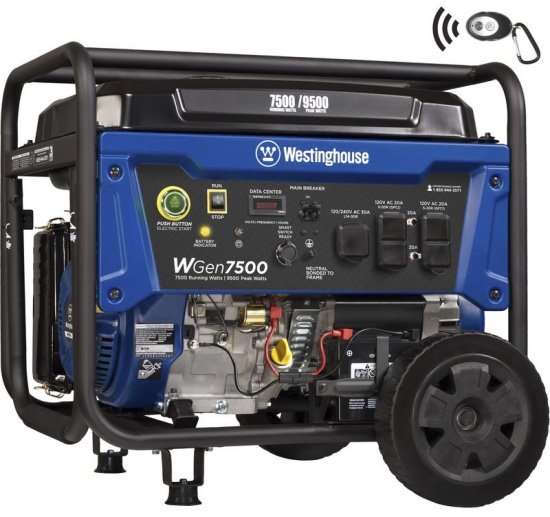 Westinghouse is, unfortunately, one of those manufacturers who does not consistently name its generator models. Here's what I'm talking about. The two models above were both numbered based on the starting watts they provide. The WGen7500, however, gets its number from the running watts instead. This is confusing when trying to compare models.
The WGen7500 actually has 9500 starting watts and 7500 running watts. See below for a list of possible uses for all this power.
This is not an inverter generator but it does have an electric starter with a recoil backup. Westinghouse includes a battery with your purchase. (Not all makers do.)
Another specification that causes problems when trying to make comparisons is that Westinghouse rates the run time of this model at half load, instead of ¼ load. Fortunately, they provide both ratings for the 2500 model so we can get some idea of the differences. The 7500 model is rated at 10 hours compared to 6.1 hours for the 2500 model each at half load.
In addition to being EPA and CARB compliant, the WGen7500 is also CSA compliant, so this one is good if you live in Canada or the States.
The 420cc, OHV, 4-stroke engine has low oil shut off, an automatic voltage regulator, and a circuit breaker to protect both your generator and your appliances.
For places to plug in, the main panel has four 120 volt outlets, and one 120/240 volt twist lock receptacle. All of these have protective covers.
Being a larger, heavier unit, Westinghouse gives you a handle with a foam grip and solid wheels so you can still port this generator where you need it fairly easily.
They also give you a few bonus accessories such as oil, a funnel, and a tool kit. These are all nice touches that some companies would make you supply on your own.
Suggested uses for the WGen7500 include, but are certainly not limited to, the following.
Sump Pump
Refrigerator or Freezer (Energy Star)
Microwave Oven
Incandescent Lights
Portable fan
Furnace Fan
Hair Dryer
Coffee Maker
Garage Door Opener
Blender
Westinghouse WGen7500
Check the pricing and availability of the WGen7500 at Amazon.
Comparison of the 2200, 4500, and 7500 Models
Check out the table below to see how the main features of these three models compare at a glance.
| | | | |
| --- | --- | --- | --- |
| Model | WH2200iXLT | iGen4500 | WGen7500 |
| Inverter? | Yes | Yes | No |
| Starting Watts | 2200 | 4500 | 9500 |
| Running Watts | 1800 | 3700 | 7500 |
| Fuel Tank Capacity (gal.) | 1.3 | 13.4 | 6.6 |
| Run Time (hrs.) | 13* | 18* | 10** |
| EPA Compliant? | Yes | Yes | Yes |
| CARB Compliant? | Yes | Yes | Yes |
| Receptacles | 2 120V AC | 2 120V AC; 2 USB | 2 120V AC; 1 L14-30 |
| L x W x H (in.) | 20.25 x 12.5 x 15.25 | 24.5 x 17.5 x 20 | 27.32 x 26.18 x 26.2 |
| Weight (lbs.) | 43 | 107 | 207 |
| Warranty (yrs.) | 3 | 3 | 3 |
*Run time rated at ¼ load
**Run time rated at ½ load
Conclusions about the Westinghouse Portable Generators
Here is what some owners of these generators have to say about their purchases.
Speaking of the WGen7500…
"I looked at many generators and nothing compares with the WGen7500 for the money."
A comment about the iGen4500…
"Very pleased with our purchase, I would recommend the iGen4500 to anyone looking for good, solid, clean RV Power."
And talking about the WH2200iXLT…
"I needed a small generator for emergencies and to power electric tools. It had to be small, economical with fuel, and very low noise. When I read the description of this generator I knew I found the right one."
As a group, these are solid picks for a new portable generator. Hundreds of users would recommended any of these models.
Here again are the links to the generators described above.
Note that, if you click the link for the WGen7500 model just above, it should take you to one of those Amazon pages that offers several models all in one place. In this case, you can also choose from the following Westinghouse generators, depending on availability. (Note that these options can easily change over time.)
You're almost certain to find a model at a wattage you need amongst all those choices. On the off chance that you don't, maybe try one of these Hondas instead.