Note: I get commissions for purchases made through links in this post.
PowerLand makes portable generators but not many models of them. In fact, there are only two power levels – 1500 watts and 10,000 watts.
In this review, I'll take a look at everything currently available according to the PowerLand website. [Update: There is a new Powerland site here that seems to have come into existence after this review was created, but it's not really for this brand.]
PowerLand generators have become increasingly difficult to find. If you have a source that still offers them, please let us know!
If you're in a rush and just want to check the pricing and availability of PowerLand portable generators at Amazon, you can click the links below. At the time of this writing, the PD2G10000E was not listed at Amazon, so I have not included it in this list.
If you want to skip ahead to a certain part of this review, you can click a link in the box below. If not, you can keep scrolling and reading as usual.
PowerLand PD2000 Portable Gas Generator
"What makes PowerLand PD2000 gas generator special from other brands?" That's a question that PowerLand asks of itself on their website.
Here is the answer they provide.
"One of the most popular, handy, and light-weighted, small and quiet portable gas generator on the market. It is suitable for home, camping, RV and since it is compact with powerful supply, it is also good for your everyday and job site use."
Rather general, but fair.
One thing I don't care for about the PD2000 is the model name itself. For the vast majority of portable generators, when there is a number within the model name, that number either refers to the starting wattage or the running wattage. This generator doesn't provide 2000 watts of power either at startup or during normal runtime.
You get just 1500 watts maximum and only 1200 watts running. In and of itself, that's fine. And if you understand that that is what you'll get before you buy this model, that's fine too. It's just that the model name is a bit deceptive compared to others. PowerLand really should have called this the PD1500. Had they done so, there would be little question as to what you are getting with your purchase. It would also making comparing similar models from other manufacturers an easier task.
Now that my rant about the model name is over, let's take a look at the features and specifications of the PD2000.
The engine in the PD2000 is a 4 stroke, overhead valve (OHV), single cylinder model that is EPA approved. It has a 1 gallon gas tank that will give you 4 hours of power a ½ load.
As is common at this power level, you get only a recoil starter. Something less common about this 1500W generator is that it is housed inside a heavy duty metal welded frame. Usually these smaller models just have a built-in carrying handle.
You cannot use the PD2000 in California or Canada as it is not CARB approved. You also cannot run it at an altitude above 3500 feet. If you need portable power in any of those locations, you'll have to look elsewhere.
Besides the DC outlet, you get just one 120V grounded AC receptacle. Under most circumstances this should be enough for a generator of this size.
The PD2000 puts out 67 decibels of noise which is fairly standard for a 1500 watt model.
It measures 18 inches long by 15 inches wide and high. It weighs 59 pounds. While the frame does protect the engine somewhat, it also adds to the weight, so keep that in mind when it comes time to move it to where you need it.
PowerLand gives you a set of charging cables, a tool kit, and the user manual in the box with your generator. I'm not sure what's included in the tool kit, but it should be enough to maintain the engine.
Here is the warranty on the PD2000 as explained by PowerLand.
"One-year factory warranty on parts only. However, consumable parts including: Spark Plug, Fuel Filter, Air Cleaner, Tires and Wheel Bearings, Recoil Starter, Rope, Cables and belt, motor oil, gas, propane tank, grease, rubber bushings etc. are NOT included in the warranty."
I don't see a lot of reviews online about the PD2000, but the few that do exist are all very positive. Here's what one owner says.
"It is light enough for my wife to carry and not too noisy for our fellow campers."
At this relatively low power level, you can't expect the PD2000 to run everything you need all at once. Still, you can get by as this user did.
"It will power my refrigerator and other small devices (though not all at the same time) when the power goes out."
Click here to check the availability and pricing of the PowerLand PD2000 at Amazon now.
PowerLand PD10000E Electric Start Portable Generator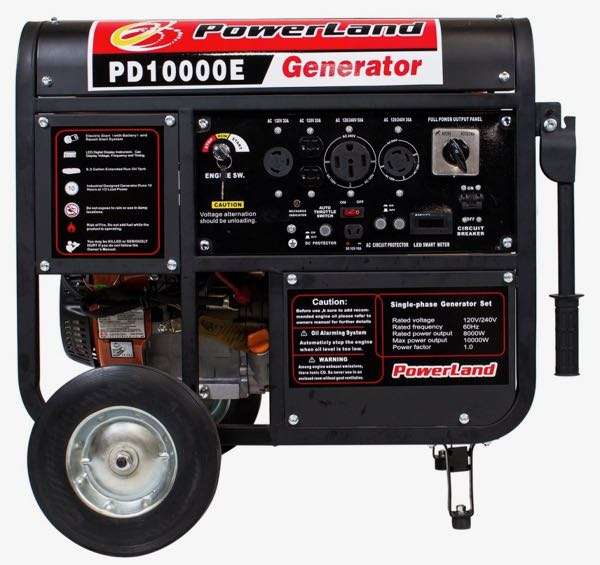 When you advance to the higher levels of power in a portable generator, you should expect more and better features. PowerLand does not disappoint.
The PD2000 above is not to be used above 3500 feet. The PD10000E cannot be used at that elevation without modification either, but if you let PowerLand know about your need to use their generator in higher altitudes beforehand, they will install a "special high elevation carburetor" before shipping it to you. (Note that this would obviously only be possible when ordering directly from PowerLand and is not likely to be available when purchasing via Amazon.) The PowerLand site doesn't mention whether this alteration would add to the cost, but I suspect it would.
The PD10000E has a 4 stroke 16 horsepower engine that is EPA, but not CARB, approved. The PowerLand website does not give CARB a thumbs up, even though other website claim this unit is CARB approved. So again, if you need to have portable power in California or Canada, you'll need to look to another manufacturer.
Other high end features include the following.
Automatic Voltage Regulation (AVR) – for clean power
Fuel gauge – for monitoring fuel consumption
Low-oil pressure shutdown – protects the engine from damage
High efficiency muffler with built-in spark arrestor – for reduced noise level
Double pole circuit breaker – for additional protection
Automatic idle switch – saves on fuel
Electric start with recoil backup – two easy methods to get going
Electric start key switch – for easy power up
For such a large engine, the decibel rating is very reasonable. The PD10000E puts out 72 decibels when running and can drop as low as 45 decibels when idling. According to PowerLand, this makes it "ideal for Trailer parks, Mobile Home parks and National Forest or wilderness and Trail campsites."
The 8.3 gallon fuel tank will give you 10 hours of power at half load. There is an automatic fuel shut off feature.
It provides 10,000 starting watts (as expected, based on the model name) and 8000 watts running. This should be enough power to run virtually everything you need during a power outage.
Receptacles include the following.
One 120 Volt 20A Nema 5-20R Duplex protected outlet
One 120 Volt 30A Nema L5-30R Protected Twist Lock outlet
One 120/240 Volt 30A Nema L14-30 Protected Twist Lock outlet
One 120/240 Volt 50A Nema L14-50 Protected outlet
One 12 Volt 8.3A outlet with harness and clips (used to charge batteries)
On the control panel, you also get a 120/240 voltage selection switch and a digital volt meter for monitoring power output.
As with most larger models, you get a wheel kit and handle that you have to install yourself. With the wheels installed, the unit measures 29 ½ inches long by 28 ½ inches wide by 28 inches high and weighs 230 pounds. The handle moves up and down for easier storage.
Besides the engine and wheel kit, you get charging cables, a battery, and the user manual.
Some owners have reported that the battery was drained from the start. One user had a problem with one of the support legs breaking. And another complained that there are no instructions for installing the wheels and handle, though he did say that it was easy enough to do.
PowerLand PD2G10000E and PD3G10000E Tri Fuel Generators
Both the PD2G10000E (2G, for short) and the PD3G10000E (3G) are basically the same unit but offer more choices for the fuel you use to run them.
As I mentioned above, the PD2G10000E is not currently list at Amazon, so you would have to look for one elsewhere if this model interests you the most.
The 2G runs on both gasoline and propane. The 3G runs on those fuels and on natural gas.
The fuel shut off feature applies only when running on gasoline.
At half load, you should expect the following run times.
Gas: 10 hours
Propane tank (small size): 4 to 6 hours
Natural gas: 18 to 20 hours
PowerLand recommends that, when running on natural gas, you stop every 18 to 20 hours for about 2 to 4 hours for resting and cooling down the engine.
With both models you get an LPG hose preset to 15 PSI. You do not get an LPG tank or natural gas hose with your purchase.
Conclusions about PowerLand Portable Generators
Reviews are overwhelmingly positive. The few negatives I would consider "one offs" and not something you're likely to have to worry about.
If you live in the United States (other than California), you should give these – basically two – generators a good look. They are comparable to similar models from other manufacturers and sell for a reasonable price.
Click here to check Amazon for the latest prices and availability of PowerLand portable generators today.