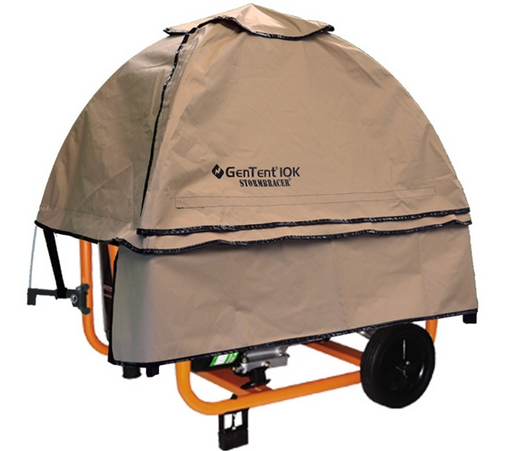 Note: I get commissions for purchases made through links in this post.
If you own a portable generator or plan to get one soon, you owe it to yourself (and your generator) to cover it to protect it from the elements. GenTent generator covers do just that for you.
In this review, I'll look at the GenTent universal cover so you can see what one looks like and what it does. All GenTent covers do essentially the same thing. The differences among them depend on the generator you want to protect.
As you'll see, GenTent has a cover for virtually every brand and model of portable generator. Depending on the generator you have, there may be a GenTent model made specifically for you.
If you're in a hurry and just want to check the price and availability of all GenTent covers available at Amazon, you can click the link below.
If you want to skip ahead to a certain section of this review, you can click a link in the box below. Otherwise, you can keep scrolling and reading this article to get all the details first.
GenTent 10k Stormbracer Covers Many Small Frame Models
Generator covers not only protect the generator itself, they also protect you. If you would otherwise be forced to use your generator in an enclosed area, you could be at risk for carbon dioxide poisoning. If you use it outside it wet weather, there's a chance of electrocution.
With a cover, you can use your generator outside but keep it dry and safe. GenTent designs their covers so you can be safe and still access the important parts of the machine, even in inclement weather.
A GenTent cover, which is made in the United States, protects electrical panels and outlets while allowing natural air flow and intake. The dome shape and welded seams let water run off the sides without affecting the generator.
The large open door flap lets you easily refuel as needed. You don't need to remove the whole cover to perform this kind of maintenance.
GenTent's Stormbracer covers can withstand winds up to 70 miles per hour. They hold up under a load of snow up to 18 inches deep, and they can handle as much as 12 inches of rain in a day. For the vast majority of portable generator owners, these standards should be more than you need when looking for a cover.
The universal model described here has 4 frame adapters so you can attach it to virtually all small (3000 to 10,000 watt) open frame generator models with either square or round tubular frames. Again, GenTent does have other models, in case this one just doesn't fit your machine.
The adapters will extend the frame length and width on smaller models so that the cover fits properly.
You can choose from either TanLight (light brown) or GreySkies (gray) color.
The Standard Edition Is Enough for Most
You can get either the Standard or the Extreme edition of the Stormbracer. The Extreme version adds UV treatment to the vinyl, laminated polyester tent and is rated for extremely cold weather all the way down to -45 degrees. The Standard version is good to -15 degrees Fahrenheit.
The other major difference between the two editions is that the Standard has a 1 year limited warranty, whereas the Extreme has a 3 year warranty.
How To Find the Right Cover for Your Generator
The most frequently-asked question about GenTent products is this: Will it fit on my ___ ___ generator? Fill in the blanks with the make and model of your portable generator.
GenTent has you covered. (No pun intended.) They have a database of thousands of models of generators that you can easily search on their website.

You can select your generator using the dropdowns (as shown above) on the GenTent site.
In addition, GenTent staff will contact you by email before shipping to ask you which model you own to make sure you selected (and they send) the right GenTent cover the first time.
GenTent makes special mounts for inverter and fully enclosed generators as well.
Such support and service is virtually unheard of, not only in the generator market, but anywhere else.
GenTent gives you setup instructions, as you would expect. They also provide links to online videos that show detailed step-by-step setup. This page shows one such example.
If you send them pictures of your setup afterwards, they will follow up with you to make sure everything is working as expected.
Assemble Your GenTent Cover in 3 Steps
GenTent says you can…
Clamp it
Frame it
Cover it
…and you're done. The videos shown at the link just above are one example of this process.
There are 4 clamps to fit into place. Then you put the frame together that attaches to the frame of your generator. Finally, you overlay the assembly with the vinyl canopy, making sure the short and long sides are in the appropriate places.
Looking for a good extension cord to connect the power your generator is producing to your gadgets? Check out these top-rated 30-amp cords at Bayside RV.
GenTent Portable Generator Covers Are Top-Notch
There's really nothing negative I can find about GenTent covers. The products are good. The service before, during, and after the sale is great. The warranty is satisfactory.
Current owners overwhelmingly agree that these tents are great. All that remains is for you to find which model works best with your generator.
Click here to check the pricing and availability of all GenTent products at Amazon.