Note: I get commissions for purchases made through links in this post.
Sportsman generators come in virtually every flavor you could want – inverter, gasoline, LP gas, dual fuel, and even tri-fuel.
Many, if not all, of the Sportsman portable generators are suitable for home and sporting use, and several of the larger models are designed for the jobsite.
These generators come from Buffalo Corp., which is the parent company of Buffalo Tools – a respected brand you've likely heard of elsewhere.
The list below is a little long for just one review article, but I'll just be touching on each model briefly here. I've already looked at the GEN4000 and GEN7000 models in this article, so I will spend even less time on them here than the others.
If you are in a hurry and just want to check the pricing and availability of these Sportsman units at Amazon, you can click (tap) a link in the list below.
If you want to skip ahead to a particular model or other section of this review, you can click (tap) a link in the box below. Otherwise, you can simply keep scrolling (swiping) and reading as usual.
Sportsman GEN3500i: The One Inverter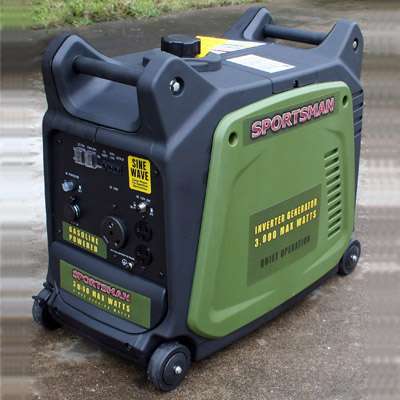 Two features make the GEN3500i Sportsman generator stand out from the rest. The first is that it is an inverter which makes it quieter than most (less than 63 decibels). The second is that it implements "Sine Wave Technology" that helps prevent power surges, so you can use it with your more sensitive electronics (computers, etc.) and appliances.
This unit gives you 3000 surge / starting watts and 2800 running watts. It has a recoil start mechanism and automatic low oil shutdown to prevent damage to the engine if you forget to keep the oil filled.
The 1.7 gallon gasoline fuel tank should give you 8 hours of power at a 50% load. You get two 120 volt AC outlets, one 12 volt DC outlet, and one 120 volt RV outlet to plug into.
All of the Sportsman generators are EPA approved and have a 1 year limited warranty.
An unusual feature for a model of this size is that the GEN3500i comes with 4 attached wheels for easy movement. You probably won't really need to use the wheels because this is such a small generator.
Sportsman GEN2000: A Basic Unit for Small Appliances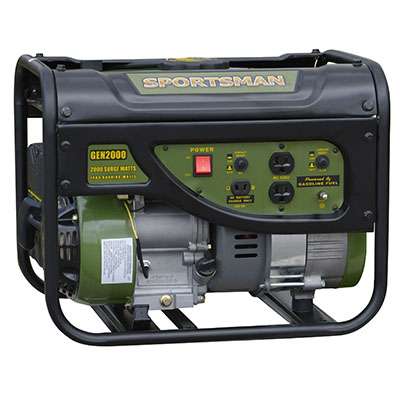 As you will see when you look at the model numbers of these Sportsman generators, the actual number part refers to the surge (starting) watts of the unit, not the running watts. This is different from how some other manufacturers name their machines.
This GEN2000 then gives you just 1400 running watts which is only enough to power smaller gadgets and appliances. Still, you do get 2 AC outlets to connect more than one device at the same time.
You should expect about 9 hours of power from a full 1.2 gallon gas tank at 50% load.
This model (and the GEN4000 below) both are fairly quiet, producing less than 68 decibels of sound.
Sportsman GEN4000: A Little More Power
You get 3500 running watts with the GEN4000. You can plug in 4 smaller items at the same time.
For more information on this and the GEN7000, check out this review.
Sportsman GEN7500DF Dual Fuel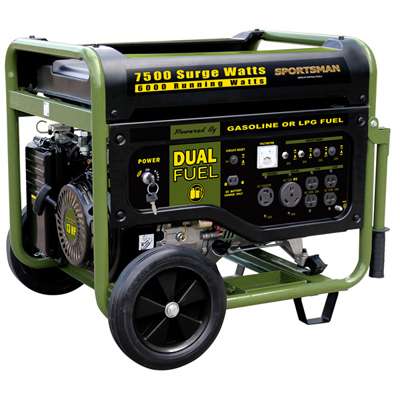 Besides the increase in power over the models shown above (7500 starting and 6000 running watts), the biggest difference with the GEN7500DF is the ability to run on both gas and propane.
Sportsman says you should get 9 hours of power at a 50% load, but I think that will depend somewhat on which fuel you choose to fill the 6.2 gallon tank with.
You also get an electric starter with this model, but you have to purchase the battery separately.
Sportsman GENTRi9K Tri Fuel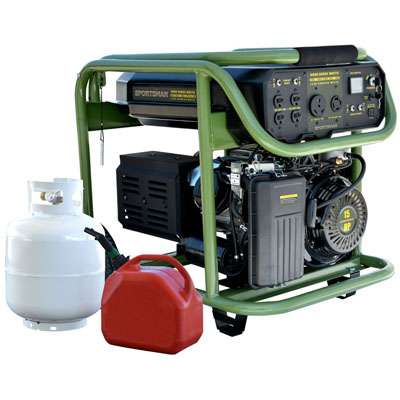 If the option to use two different fuels isn't enough for you, consider the GENTRi9K that lets you select from three – gasoline, liquid propane (LP), or natural gas (NG).
The "9K" in the model name mean you get 9000 starting / surge watts. You get 8000 running watts.
Here Sportsman does give different run times for two of the fuels – 10 hours for gas and just 5 hours for LP each at 50% load. (You probably can assume similar results for the GEN7500DF just above.) I'm not sure what their rating is for natural gas or if that is included in the generic "gas" rating given.
Here too you get an electric start method but no battery.
Sportsman GEN2000LP, GEN4000LP, and GEN7000LP
Finally, there are three Sportsman generator models that run only on LP gas. Take a look at the table below to see how they compare to each other.
Model
GEN2000LP
GEN4000LP
GEN7000LP
Surge Watts
2000
4000
7000
Running Watts
1350
3250
6000
Starter
Recoil
Recoil
Electric* / Recoil
Low Oil Shutdown
No
Yes
Yes
Voltage Regulator
No
Yes
Yes
Engine Shut-off Switch
Yes
Yes
Yes
Receptacles
One 120V AC;
One 12V DC
Two 120V AC;
One 12V DC
Four 120V AC;
One 12V DC;
One 120/240V
Run Time (hrs.)**
12
10
8
Decibels
< 65
< 68
<80
*Battery not included
** At 50% load per 20 lbs. Of fuel
Conclusions about the Sportsman Portable Generators
Most of these Sportsman models have overwhelmingly positive reviews from owners. You'll see 4 or more "stars" (out of 5) for the majority of them.
It seems the GEN4000LP is particularly popular, whereas both 2000 watt units – the GEN2000 and GEN2000LP – are much less so.
I think you would be quite satisfied with any of the Sportsman portable generators, especially at their current price point. However, if you are looking for a 2000 watt model, you may want to check out other brands.
Click here to check the pricing and availability of Sportsman portable generators at Amazon now.