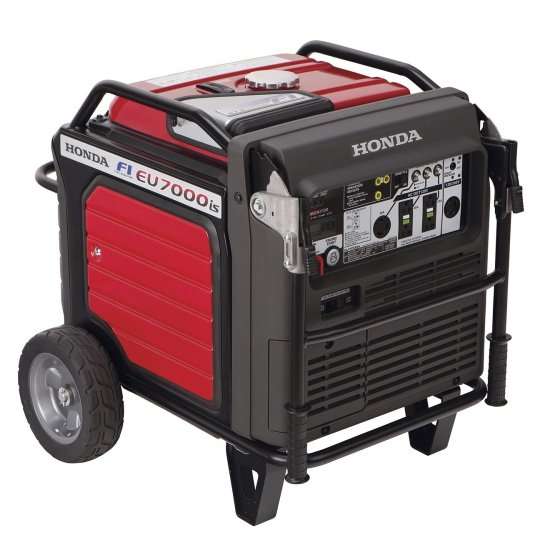 Note: I get commissions for purchases made through links in this post.
The Honda EU series of portable generators consists of 5 main models one of which will probably be to your liking. All of them – from the EU1000i to the EU3000i have inverter technology which makes them very quiet runners.
Let's take a quick look at each of them (and a couple of their cousins) in this overview and review of the EU series.
If you're in a rush and just want to check the pricing and availability of one or more of them at Amazon, you can click a link in the list below.
If you want to skip ahead to a particular model or section of this article, click a link in the box below. Otherwise, just keep reading and scrolling as usual.
Recall Note about EU2200i Models
June, 2019: This article did not originally discuss any of the EU2200i models. Earlier in 2019, Honda recalled all of these models due to a defect that could cause a fuel leak. You can see the details in this PDF.
June 2020: The problems with the EU2200i have apparently been fixed. The EU2200i has replaced the EU2000i. You may still find the older model in the secondary market.
How Do the Honda EU Models Compare to Each Other?
First, here's a table that gives you an overview of the five main models. You can see at a glance the similarities and differences from one model to the next.
As you probably have guessed, the price normally goes up as you move from left to right across the columns.
| | | | | |
| --- | --- | --- | --- | --- |
| Model | EU1000i | EU2200i | EU3000i | EU3000iS |
| Engine | GXH50 | GXR120 | GX160 | GX200 |
| Displacement (cc) | 49.4 | 121 | 163 | 196 |
| AC Output* | 120V; 900W | 120V; 1800W | 120V; 2600W | 120V; 2800W |
| DC Output | 12V; 96W | 12V; 100W | 12V; 100W | 12V; 144W |
| Starter | Recoil | Recoil | Recoil | Recoil; Electric |
| Fuel Capacity (gal.) | 0.6 | 0.95 | 1.6 | 3.4 |
| Run Time (hr.)* | 3.2 | 3.2 | 3.5 | 7.1 |
| Gallons / Hour | 0.19 | n/a | 0.46 | 0.48 |
| Dimensions (in.) | 17.7 x 9.4 x 15.0 | 20.2 x 11.4 x 16.7 | 24.5 x 14.9 x 19.3 | 25.9 x 17.6 x 22.0 |
| Decibels* | 59 | 57 | 65 | 58 |
| Weight (lbs.) | 28.7 | 46.5 | 78 | 131 |
| Warranty (yr.) | 2 | 3 | 3 | 3 |
*Variable measurements are given at the Rated load which is less than a full load.
Note especially the gallons per hour row. Ignoring for the moment the overall amount of power that you might need in a larger generator, if you want the most fuel efficient model, you should go with the EU1000i because it uses the least amount of fuel over time.
Obviously, as I mentioned, this doesn't take into consideration a lot of other factors that you really need to consider before making a purchase. Power output and the physical size of the machine are two major features you must take into account.
Notice also that the decibel noise level does not significantly increase from the smallest to the largest model. All five of these generators are rated in the 60 to 65 decibel range. That's really, really quiet.
Honda EU1000i for Just a Little More Power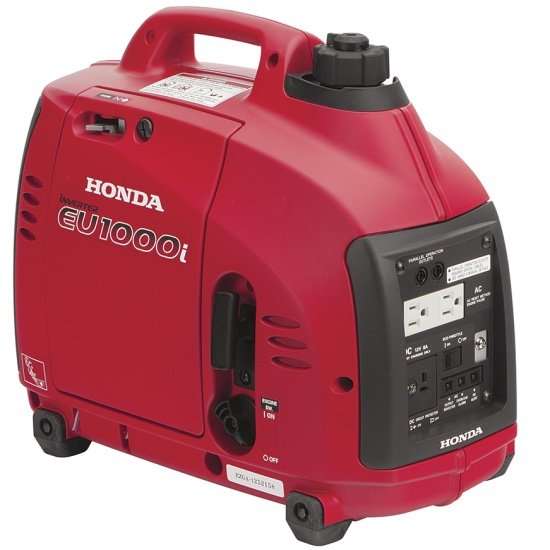 At the bottom end of the EU line is the EU1000i. Based on the model name, you would think this inverter generator would give you 1000 watts of power, but as with virtually all portable generators (Honda and other manufacturers, too), the actual amount of power you can expect is something less than that number.
The EU1000i will give you 900 watts of AC output and 96 watts of DC at about half load. To see how this compares with your needs, check this article.
Honda suggests using this model to power your TV, lights, fans, small power tools, and appliances.
If you occasionally need more power, you can connect two identical models in parallel with an optional cable or cord.
This unit only has a recoil; that is, pull cord, starter. This is to be expected from the smaller models. It doesn't normally take more than a couple of pulls to get it going.
You can put a little over half a gallon of gas into the tank. This should last you at least 3 hours and possibly more than 7. If you only need the extra power for an afternoon, for example, the EU1000i will serve your purposes.
The EU1000i is very small. It's less than a foot and a half long and weighs less than 30 pounds. Almost any adult will be able to carry this to its needed location with ease.
All the EU models have Oil Alert® to protect the generator by shutting the engine off when low oil is detected. They also have circuit protection that protects the generator from being overloaded.
The EU1000i has a residential warranty of 2 years and a commercial warranty of 1 year. It seems unusual to me that there should be a difference here, but I suppose there is some logical reasoning behind it.
This video shows you how to setup both the EU1000i and the EU2000i (more on this model below).
What Do Owners Think of the EU1000i?
Read what several users have to say about their EU1000i portable generators.
"This generator is definitely quiet. Most people don't hear it going by our RV until they are beside our unit."
For those unfamiliar with tailgating, it's sitting outside a stadium before (or during) before a (football) game and enjoying food and friendship with other fans.
"Used it all last football season for tailgating and it ran perfectly."
Here is a testament to the low decibel level.
"Quiet…so quiet I could carry on a normal conversation with it running beside me. And, it is so much more economical with the ECO which the others did not have and it will run for hours on a half gallon of gas."
Honda EU1000i
Check the pricing and availability of the Honda EU1000i generator at Amazon.
Honda EU2000i – 3 Varieties
Update: These models have been replaced by the Honda EU2200i. (See the table above for specs.) Many of the features are the same. You just get a little more power with the newer model.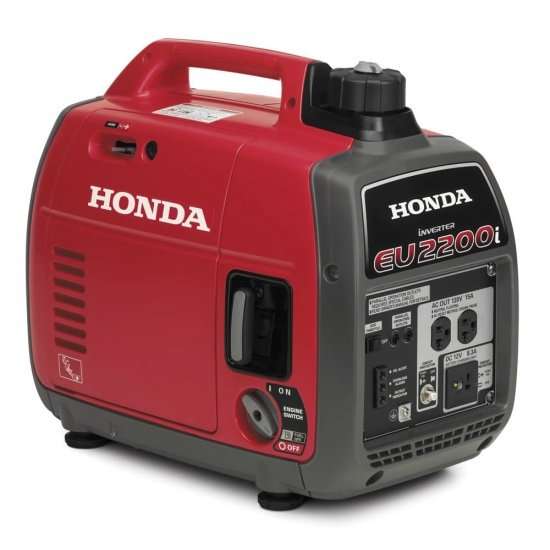 With the EU2000 line of portable generators, you can almost double the output wattage of the EU1000i from 900 to 1600 watts.
Somehow, even though the power is just about doubled, Honda manages to keep the volume level the same as the EU1000i.
At just 46 pounds, this unit is light enough that one person should be able to carry it around by himself.
Honda suggests a multitude of uses for the EU2000i inverter generator.
TV
Satellite
Refrigerator
Hair Dryer
Coffee Pot
Small Appliances
RV applications
As with most of these models, you can couple two like units together to double your power. In the case of the Honda EU2000i, there is a special model, the EU2000i Companion, just for this purpose. The Companion has a built in 30 amp outlet so you can connect it in parallel to the base EU2000i.
Honda EU2000i
Check the pricing and availability of the Honda EU2000i generator at Amazon.
The third unit in this line is the EU2000i Camo which features RealTree camouflage on its housing. If you really don't want the flashy red of the basic model to be visible out in the woods, the Camo is the version to get instead.
All of these models (as well as all the more powerful units in this series) have a 3 year residential and commercial warranty.
What Do Owners Think of the EU2000i?
Here's an avid fan.
"These things rock! This is my second, added to parallel with my four year old example to run my r/v air conditioner. Two of these in parallel are lighter and more powerful than an eu3000i, and you can only use one for lighter loads."
This user validates the old truth about how much you have to pay.
"Can't go wrong with a Honda generator. It's expensive for a reason. Pay for what you get. It's not loud like others…."
Repeat customers are always a good sign.
"This is great. I'll buy another or the extra gas tank option Honda sells. Maybe both. I like it when things work."
EU3000iS and EU3000i Handi
Moving up the power rankings, we come to the 3000 models, the EU3000iS and the EU3000i Handi.
Besides the obvious benefits of more power, here's what is special about each of these units.
Honda says that the EU3000i Handi is "the lightest 3000-watt inverter generator we've ever made."
Its compact design includes wheels and a folding handle for portability. The handles are slightly offset for easier lifting, which at 78 pounds, may still take two people to accomplish.
The Handi also has a recessed convenience light so you can easily see the control panel at night.
The big advantage of the EU3000iS is its convenient electric start. You don't have to rely on the pull cord to get your power moving. The recoil is relegated to a secondary position.
What Do Owners Think of the EU3000i?
This user makes it a family affair.
"When I walk by a food truck night and all the trucks have those chainsaw sounding generators, my son always tells me how much better he likes ours. He's a smart [k]id."
Listen to yet another repeat customer.
"I have two other Honda's and they are why I bought a third one, this one being larger."
Honda EU3000iS
Check the pricing and availability of the Honda EU3000iS generator at Amazon.
Conclusions about the Honda EU Series
Honda is known for making very good engines. I currently have one in my car and in my lawnmower. I wouldn't hesitate to get one as my next portable generator.
Current owners are overwhelmingly in favor of the Honda portable generators. Many would (or already have) purchase a second or third generator based on their experiences with their first one.
I suggest starting with the EU2200i using the link below. Then move on to another EU model if that one isn't quite what you were looking for.
If you don't think any of these EU series models are for you, check out the EG series, EB series, or EM series for one that suits you better.
Another alternative is the Predator 62523 Inverter, which is the equivalent of the Honda inverters above. It's distributed by Harbor Freight for roughly half the price.