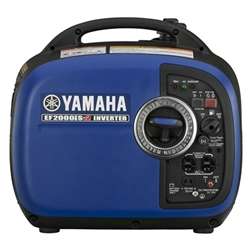 Note: I get commissions for purchases made through links in this post.
Yamaha seems to have its name on just about everything. I guess that's a sign of a good, stable company. So it's no real surprise that Yamaha inverter portable generators are highly rated by owners.
Yamaha currently makes (depending on how you count) 7 models of consumer grade portable generators. I'll take a look at each of them in this article. I'll tell you now that there's not a whole lot of difference from one to the next, except of course in how much power they will generate for you.
Also, you may see other models than those discussed here. Some are larger commercial grade units. The ones I'll cover here are currently the only models listed on the official Yamaha site.
If you're in a hurry and just want to check the availability and pricing of these Yamaha portable generators at Amazon, you can click the links in the list below.
On the other hand, if you have time to stick around for a while, you can either just scroll and read or click one of the links in the box below to skip ahead to a specific section of the review.
Common Features of Yamaha Portable Generators
As I mentioned above, all the Yamaha generators in this list are inverters. This makes them generally more efficient and quiet than standard models. Starting with the 2400 model, Yamaha mentions that the engines are "brushless" as well. I haven't been able to confirm if the 1000 and 2000 inverters are brushless too.
These units all have Yamaha's Smart Throttle load sensing feature that controls the speed (RPMs) of the engine for better gas conservation. It can tell when more power or less power is needed and makes speed adjustments accordingly.
They also have Yamaha's Oil Watch warning system. The generator will let you know when the oil level is getting low so you can add more and prevent damage to the engine. (Other manufacturers do have similar systems on some of their models.)
When you think you're not going to use your portable generator for a while and want to put it into storage, you can shut off the gas to the unit with the gasoline petcock and run the carburetor dry. You don't have to worry about trying to start up the next time with stale gas.
Yamaha generously includes a pair of battery cables with your purchase. You might already have a set in the trunk of your car, so now you can keep cables right with your generator too.
The engine itself in all these models is an OHV, air-cooled, single-cylinder, 4-stroke unit. I include this for the gearheads in the audience. (Sorry, but unlike my father, I'm not really one of you.)
Comparing and Contrasting the Yamaha Generator Models
Here are some tables that show you at a glance the main differences from one model of Yamaha portable inverter generator to the next.
| | | | |
| --- | --- | --- | --- |
| Model | EF1000iS | EF2400iSHC | EF2800i |
| Rated AC Output (Watts) | 900 | 2000 | 2500 |
| Displacement (cc) | 50 | 171 | 171 |
| Decibels* | 57 | 60 | 68 |
| | | | |
| --- | --- | --- | --- |
| Model | EF3000iS | EF4500iSE | EF6300iSDE |
| Rated AC Output (Watts) | 2800 | 4000 | 5500 |
| Displacement (cc) | 171 | 357 | 357 |
| Decibels* | 60 | 60 | 64 |
*At rated load
| | | | |
| --- | --- | --- | --- |
| Model | EF1000iS | EF2400iSHC | EF2800i |
| Continuous Operation (hr.)** | 11.9 | 11 | 14.7 |
| Fuel Capacity (gal.) | 0.66 | 1.6 | 2.6 |
| L x W x H (in.) | 17.7 x 9.4 x 14.9 | 20.8 x 16.5 x 18.2 | 19.2 x 15.6 x 16.7 |
| Dry Weight (lbs.) | 27.9 | 75 | 68 |
| | | | |
| --- | --- | --- | --- |
| Model | EF3000iS | EF4500iSE | EF6300iSDE |
| Continuous Operation (hr.)** | 18.6 | 15.2 | 13.3 |
| Fuel Capacity (gal.) | 3.4 | 4.5 | 4.5 |
| L x W x H (in.) | 26.8 x 17.5 x 21.9 | 30.7 x 24.3 x 27.2 | 30.7 x 24.3 x 27.2 |
| Dry Weight (lbs.) | 136 | 194 | 200 |
**At ¼ rated load
In addition to all the comparative data in these tables, there are a few other features to note for specific models.
Yamaha says the EF1000iS has an Auto Warm-up feature that "automatically increases engine speed for 4~6 minutes to ensure smooth power delivery during cold start ups."
You may be able to get a RealTree camouflage version of the 2000 Watt model. If staying hidden while using power is important to you, you'll want to check out this popular machine.
The video below might not seem to be about generators at first, but stick with it. It really is.
According to Yamaha, the EF2400iSHC "boasts High Current output which is designed specifically to increase motor starting capability and to improve air conditioner starting. This High Current model starts most high efficiency 13,500 btu AC in temperatures up to 110° F."
The EF3000iSEB features a 500 Watt boost (mentioned in the video above) to help you get larger equipment started. Something in this version adds to the weight making it just over 154 pounds.
The EF4500iSE and EF6300iSDE both have electric starters – thus the "E" in the model name.
Finally, one more note from Yamaha about the EF6300iSDE.
"With sophisticated capabilities like dual 120-volt and 240- volt power, you can run almost any type of equipment with total confidence. From high-demand equipment such as well pumps, compressors and RV air conditioners to sensitive electronics like plasma TVs, satellite receivers and computers."
What's the Verdict on Yamaha's Portable Generators?
Virtually all these models are rated at 4 stars (out of 5) or better.
Here is what a few owners have to say about their Yamaha machines.
Regarding the EF2000iS…
"Coupled with some good 12 gauge extension cords you could easily, safely, and efficiently protect your property. Of course, it is great for camping and tailgating to provide lighting, music, or just make a pot of coffee when out in the woods. You simply cannot go wrong with this generator (provided you understand its limitations)."
While the reviews for this model are overwhelmingly positive, there is apparently one caveat described by this owner.
"After you put a few thousand hours on these things, they start eating oil like candy. I'm talking 8-12 hours from full crankcase to low oil shutdown – like fill the oil every time you fill the gas."
That problem may not occur in every unit of this model.
Commenting on the EF1000iS…
"It worked beyond my expectations, as it was really quiet and provided sufficient power to run a flat screen TV (full time), charge a laptop computer (occasionally), and a crock pot (occasionally) from about 8 am to after 5 pm without ever requiring more gas. Would definitely recommend this unit for tailgates."
Check the availability of these Yamaha portable generators at Amazon now.
Or check out the individual models via the links below.