Note: I get commissions for purchases made through links in this post.
Let's assume that you like the Yamaha brand of engines but you can't quite afford the generator that you want that employs one. If that's the case, a machine like the Arima AY2000i is for you.
The Atima line of portable generators all use Yamaha engines but are made less expensively so you can afford them more easily.
Here we'll look specifically at a small inverter generator, the AY2000i. I'm going to make the assumption that the model name mean "A" for Atima, "Y" for Yamaha, 2000 for maximum wattage, and "i" for inverter. I don't know if this applies to the whole line, but it's a good place to start.
If you're in a hurry and just want to check the pricing and availability of this generator at Amazon, you can click (tap) the link below.
Standard Features for a Lower Price
If you've looked at smaller generators at all, you won't be shocked by anything you see here. The Atima inverter generator has similar features to others in its class.
Since it does have the Yamaha engine, it's internal specifications will be nearly identical to those in a full-blown Yamaha machine as well.
The table below points out the major specs and features of the Atima AY2000i inverter.
| | |
| --- | --- |
| Rated / running output | 1600 Watts |
| Maximum output | 2000 Watts |
| Rated speed | 4650 revs. / minute |
| Fuel tank capacity | 1 gallon (4 liters) |
| DC output | 12 Volts / 8 Amps |
| Voltage | 120 |
| Noise level | 52 dBA at 7 meters at 1/4 load |
| Oil capacity | 0.1 gallon |
Yamaha Engine Specs
In addition to those items mentioned in the table above, I can tell you that the engine is a single cylinder, air-cooled, 4-stroke, gasoline model. You should use unleaded gas in the tank. At a quarter load, you can expect about 10 hours of runtime on a single tank. At a half load, a tank of gas will last just under 8 hours.
For oil, Atima recommends SAE 10W-30, obviously not hard to find. You probably already have some in the garage. Note that the unit will arrive without oil inside, so don't attempt to start it until you have added some!
The starter is recoil type. There is no electric start, a feature normally only found on larger models.
Dimensions and Safety Features
As this is one of the smaller Atima models, you should be able to carry it around fairly easily. It does weigh about 47 pounds, but that's not something you'd need wheels for. It measures about 21 x 12 x 19 inches.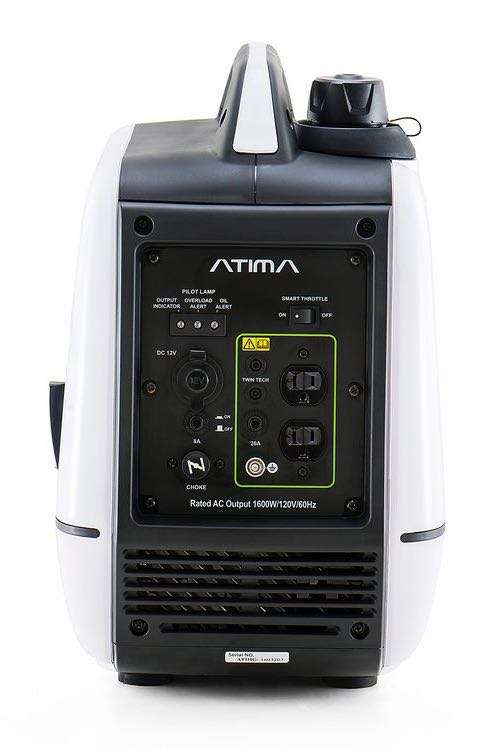 You get three 120 volt AC output sockets and two 12 volt DC sockets. Again, that's a common amount for a unit this size.
Safety features include the following.
Electrical circuit breaker
Low oil alarm
Smart throttle
Overload protection
All are very handy additions that you hope never to notice while running.
Additional Units and Warranty
A feature that seems to be getting more common is that you can get two of these generators and run them in parallel. This gives you greater flexibility than buying just one larger machine.
Finally, for the warranty, there are three "phases" to consider. You get a 1 year warranty on the full unit that includes both parts and labor.
Then you get a 2 year warranty on just the parts. Lastly, you get a 3 year warranty on the engine and the inverter but for parts only. I think this is quite generous. Like the safety features, a warranty is something you hope you'll never have to invoke.
Verdict on the Atima AY2000i
I'm repeating myself, but if you like the Yamaha engine but want to save a little money, go with this Atima generator.
Other users are thusfar overwhelmingly pleased with their purchases. I don't see why you wouldn't be as well.