Note: I get commissions for purchases made through links in this post.
Briggs & Stratton has been in business for over 100 years, so they should have a good idea of how to make engines. Most people agree that they do, especially when it comes to this 3500W portable generator.
Briggs & Stratton (Briggs, for short) makes a wide range of generators, as do most other major manufacturers. The Briggs 3500W is at the low end of the power spectrum. You can currently go as high as 8000 watts in a Briggs portable.
Let's take a look at the details of model 30676 to see if Briggs has what you're looking for.
If you're in a hurry and just want to check the pricing and availability of the Briggs 30676, you can click (tap) the link just below.
Briggs 30676 Features and Specifications
When the weather – whether it be a tornado, hurricane, blizzard, or ice storm – is against you, it's good to know you've got a source of backup power for the major electrical appliances you need to survive.
The Briggs 30676 can handle the powering several, if not all, of the items you want to use until you're back on the grid.
With the 3500 running watts and 4375 starting watts of power available in this model, you can run the generator for about 8 hours at 50% load. The math probably doesn't work out to 4 hours at full load, but it should be close to that.
In other words, you won't be able to run this machine at full load all day long. Then again, you likely won't need that much power for that length of time. Running at half or 75% is more reasonable. If you need more than that, look for a bigger generator.
The 208cc engine has a gas tank that holds 4 gallons of gasoline. According to a Briggs rep…
"This generator, model 030676, runs off unleaded gasoline with a minimum of an 87 Octane rating (gasoline with an ethanol content up to 10% is acceptable for this model)."
So you have a little leeway as to what "flavor" of gas you can fill the tank with.
Control Panel Highlights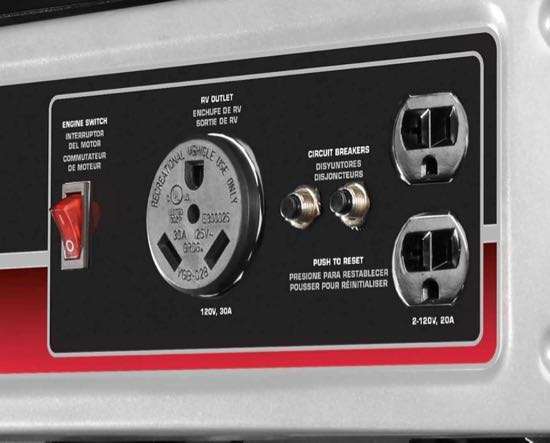 The angled control panel has twist lock outlets so your cables will stay connected. You get two 120 volt / 20 amp Duplex outlets and one 120 volt / 30 amp RV outlet.
The panel also includes circuit breakers and the start engine switch. This is a recoil start model, not an electric start, but you do need to flip that switch first though.
Weight and Wheels
The Briggs & Stratton 30676 weighs over 110 pounds and probably a tad more with full gas and oil tanks. So it's good that it comes with 7-inch "Never-Go-Flat" wheels. There isn't really a handle as such, but the frame is designed so that you can easily grab hold of it to tow it where you want it.
Speaking of oil, a Briggs rep also says…
"The oil should be changed after the initial 5 hours of use (break-in period). After that, the oil should be changed every 50 hours of use or yearly."
"North America's Largest Service Network"
According to Briggs & Stratton, they have the largest service network on the continent. I'm not sure if that means among small engine manufacturer or something larger is scope.
You get a limited 2-year warranty on this 3500W generator. You should be able to take it to any of the 3000+ generator servicing dealers should you need it repaired.
One final note about the noise level, since everyone always asks. Referring again to a company rep…
"Briggs & Stratton does not conduct decibel rate testing for this unit as there is no industry standard for noise testing in the USA."
That's always seemed like a bit of a cop out to me, but that's the best you're going to get in this department. Given its size, it's probably not the loudest or the quietest generator in the market.
Conclusions about the Briggs & Stratton 30676
The majority of owners of a Briggs 30676 are more than satisfied with their generator. If you gauge your needs properly and find that 3500 watts will handle what you want to power, then this machine will serve you well for many seasons.
As I noted once briefly above, if you need to power more than a 3500W portable generator can handle, simply move up to a larger model, whether another Briggs or some other brand.
Click here to see your Briggs 30676 3500W generator at Amazon now.