Note: I get commissions for purchases made through links in this post.
The Champion model #100554 3500W generator is very popular among the RV crowd. If you're part of that crowd, you really should look seriously at this portable generator.
The Champion 100554 has all the features an RV owner needs and several that most other generators don't have.
If you're in a hurry and just want to check the pricing and availability of the Champion 3500W generator at Amazon, you can click (or tap) the link just below.
Main Features of the Champion 3500W Portable Generator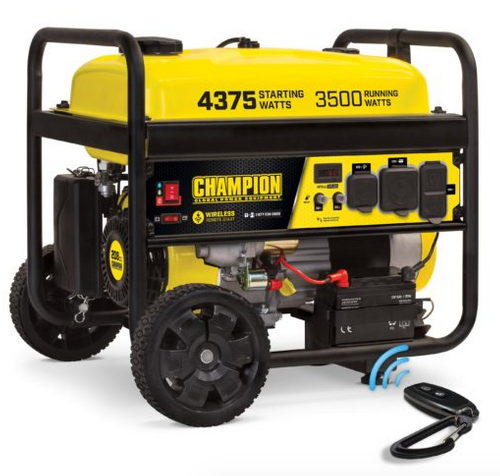 Champion Power Equipment generators are known for quality and reliability in general. This 3500W model is proof positive of that fact. (Sorry for sounding a little cliche there, but it's true.)
Again, if you're one of those RV owners, what you want to know is how well it will work with your vehicle on the road. You'll be happy to know that it comes with a 30 amp RV outlet and that it can power a 15,000 BTU air conditioner. That is what you've got in your RV, right?
One of the features not available in most other generators is the remote key fob that lets you start and stop the machine from up to 80 feet (between 25 and 30 yards) away. If it's cold outside where you're camping, no need to wander over to the generator just to flip a switch. Recoil (pull start) is always available as a backup start mechanism.
The electric start 208cc engine comes with a battery – not all such machines do. The Champion has a 3-way ignition switch and features "Cold Start Technology". Again, think of those cold winter days up north.
The engine normally runs on gasoline, but you can get an adapter for either propane or natural gas, if you prefer either of those fuels.
Of course, for those of you without an RV, this generator works wonderfully as a regular backup power supply for your home. It can also handle just about any power tool you want to connect to it.
The single-cylinder, 4-stroke, OHV engine gives you 4375 starting watts and 3500 running watts of power. You can run several major appliances with that much juice. You should be able to run for about 12 hours at half load.
Another item seldom seen is outlet covers. You get covers for each of these outlets.
One 120 volt, 30 amp (TT-30R) RV outlet
One 120 volt, 30 amp locking (L5-30R) outlet
Two 120 volt 20 amp household (5-20R) outlets

None of these are GFCI. All of these are monitored by Champion's "Intelligauge" for voltage, frequency, and operating hours. The "Volt Guard" surge protector is there to prevent overloads from spikes in the current. This keeps your connected equipment safe from damage.
If you're running low on oil, the shut-off sensor will turn the generator off for you. This protects the machine itself from damage or seizing up – an expensive consequence of running without enough lubricant.
One gauge that's lacking is a fuel gauge. Some owners have also noted that filling the 4.7-gallon, steel gas tank is a bit of a challenge. You have to pour the liquid in rather slowly to prevent overflowing and spills.
Since this is a larger model weighing 120 pounds, you get a wheel kit consisting of solid, 8-inch diameter wheels. This, along with the foldaway handles, keeps the portability in play for this portable generator.
This generator is no noisier than you would expect for one this size. At 23 feet away, it tops out at 68 decibels. It'll sound a like a vacuum cleaner running in the distance.
The Champion 3500W model 100554 is both EPA certified and CARB compliant. California residents can all shout for joy now.
Specifications of the Champion 3500W Generator
Here are a few miscellaneous items worthy of note.
| | |
| --- | --- |
| Oil* type | 10W-30 |
| Oil capacity | 0.6 quarts |
| Length | 24.9 inches |
| Width | 22.9 inches |
| Height | 22.4 inches |
| Warranty | 3-year limited** |
*The oil itself is not included, but a funnel is.
**Free lifetime technical support is included.
Conclusions about the Champion 100554 3500W Generator
I said at the top that this was a popular model among RV owners. Perhaps now you can see why. I don't own an RV but would still be quite pleased with this Champion generator myself.
I think, whether or not you own an RV, you should seriously consider getting this generator if you're in the market for one. I wouldn't hesitate to order one online either. After all, you get it shipped to your door without the hassle of dragging it home some other way.
Check out the Champion 3500W Wireless Start Generator at Amazon now.
If the 3500W above isn't available, try the Champion 3500W Dual Fuel generator using the link below. You might even like it better!
Click here to see the Champion 3500W Dual Fuel RV generator at Amazon.