Note: I get commissions for purchases made through links in this post.
The Rockpals Portable Power Station isn't technically a generator, even though you may see it called that in some places. (It's mainly for keyword recognition reasons that some people call it that, but that's way beyond our scope here.) What the Power Station really is is a big battery.
In this article, I'll show you the Rockpals Power Station's features and tell you what you can do with it, so you know whether or not it will suit your purposes and needs.
If you're in a hurry right now and just want to check out the pricing and availability of the Rockpals unit on Amazon, you can click (or tap) the link just below.
A Battery with Lots of Power to Backup Your Devices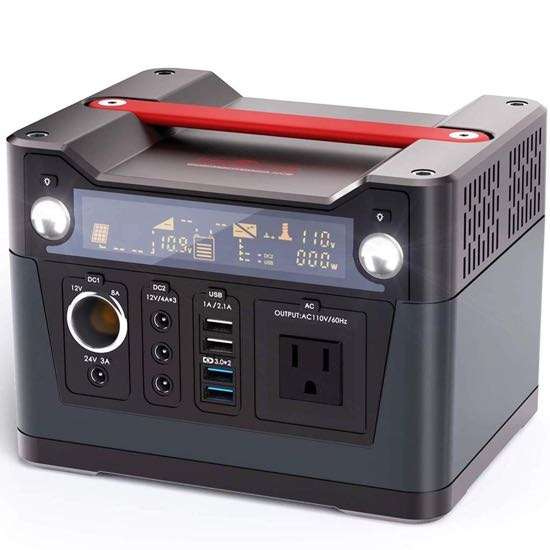 A Power Station like the Rockpals battery is especially useful when you're traveling. You can use it to recharge smaller devices like a cell phone, tablet, laptop, portable TV, and lights. Obviously you can do this at home as well, but there you might have better sources of power for recharging.
The makers of this Power Station seem to especially note that you can also use the unit to power a CPAP machine, as long as it uses less than 96 watts. If you do intend to use it this way, they suggest you also get an optional DC converter. If the converter you choose is the Rockpals S10/S9 DC converter, then it should work for 3 nights without a heater and humidifier.
To get the power from the battery to your devices, you get several types of outlets and ports. There are 3 USB ports – two of them are standard and one is a QC 3.0 type.
There is one pure sine wave AC outlet that runs at 110 volts. This is pretty much a standard AC output. You can use it to charge devices less than 300 watts.
Finally, there are a total of 5 DC outlets. One is a 12 volt "cigarette lighter" type. Another is a larger 24 volt outlet. The other three are all 12 volt outlets.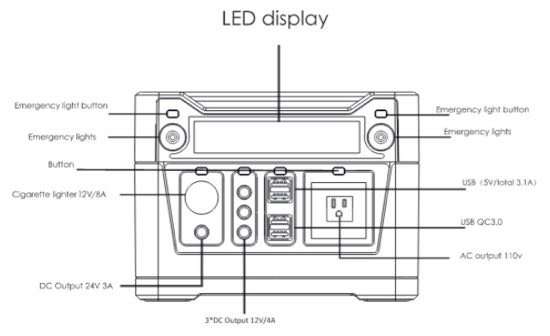 The larger capacity DC outlet (located below the "cigarette lighter" output) can charge devices less than 96 watts. The three other DC outputs can charge devices less than 48 watts. If you attempt to exceed these limits, the Power Station goes into protection mode. You'll need to charge it using a wall charger to reset it.
If you really need to calculate how long you can use the Station before you need to recharge the battery, use can use the following formulas.
For AC output…
Working time = 280wh multiplied by 0.85 divided by the power of your device
For example, if the power of your device is 50 watts, the working time will be 280wh * 0.85 / 50w which equals roughly 4.76 hours.
For DC and USB output…
Working time = 240wh multiplied by 0.95 divided by the power of your device
Recharging the Power Station
To get power back into your lithium battery (which is not replaceable), you have three options. You can plug it into a standard AC (110 volt) outlet, attach it to a 12 volt car charger, or use solar panels, such as the Rockpals 60W/80W/100W solar panel (sold separately).
The time required for a full recharge will vary depending on the method you use.
6-7 hours for AC
6-7 hours using a 12 volt car adapter
8-9 hours with 18 volt solar panels
Specification and Warranty for the Rockpals Power Station
This Power Station weighs 7.3 pounds, so you should find it easy to carry around, with or without the use of the foldable handle. It measures about 7.5 inches long by 6 inches wide by 5.5 inches high.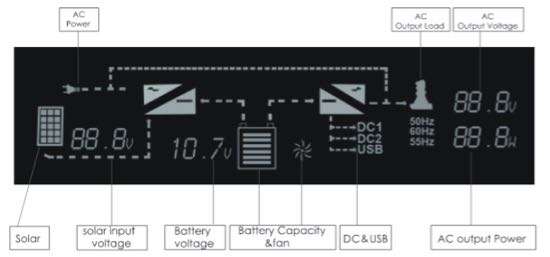 The LED display shows you current charge / discharge information and battery life status. Rockpals claims you should get at least 500 "lifecycles" when running at 80% capacity.
You can use the Station as a powerful flashlight by turning on the twin lights located on the front.
Several protections are built into the unit: short circuit, voltage control (over and under), temperature (low and high), over current, overload, and overcharge. No matter what you try to do to it (within reason), you should be protected.
The actual items you get in the box are the following.
AC Charging Cable
DC Cable (pin 5.5 * 2.1mm)
MC4 Adapter Cable
Car Charging Cable
User Manual
All of this is covered by a "worry-free" 24 month warranty. (Sorry, I don't have any details about the warranty itself.)
Conclusions about the Rockpals 300W Power Station
This is a very popular and apparently reliable portable battery. As long as you don't expect it to do more than it is capable of, you should be very pleased with your purchase.
If you'd like another option, check out the Suaoki portable battery here.
Get your Rockpals 300W Portable Power Station at Amazon now.