Note: I get commissions for purchases made through links in this post.
I've been finding more inverter generators in the 3000 watt to 3500 watt range lately. This Champion inverter generator fits right in that category.
I am fortunate to live in an area where the power is quite reliable. In fact, I can only remember losing power on a couple of occasions in that past nearly-30 years, and each of those times, it was only for a few hours.
We don't live in hurricane territory, nor do we live in a remote area. Here in southeastern Wisconsin, our main worries are tornadoes and blizzards, neither of which are frequent or have much effect on the power grid.
But enough about me. We now return to our regularly scheduled review of the Champion Power Equipment 3100W dual fuel inverter generator.
If you took the time to read that, you're probably not in much of a hurry, but if you are now (having taken the time to read that), and you just want to check the pricing and availability of the Champion 75531i at Amazon, you can click (or tap) the link just below.
Standard Outlets and RV Ready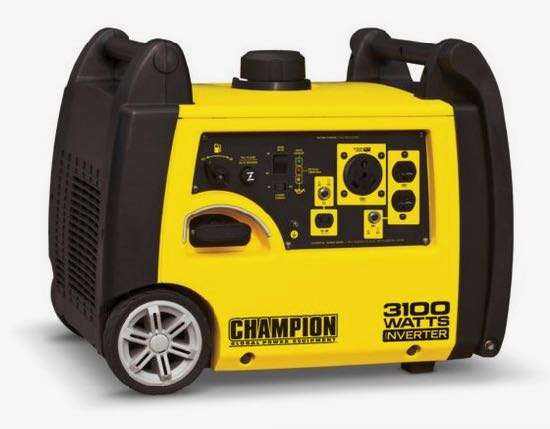 If you own an RV and/or like to go camping, a large inverter generator is just the ticket. The Champion 3100W is RV-ready and has these outlets.
One 120 volt, 30 amp (TT-30R) – This is the RV outlet.
Two 120 volt, 20 amp (5-20R) household outlets
One 12 volt DC outlet
You also get 12V DC battery-charging cables, but the battery itself is not included. This is not uncommon but seems to be more rare these days.
Note that there are no GFCI outlets, nor are there covers for any of the outlets. Keep the latter in mind if you need to use or store the generator in inclement weather.
Champion Engine Specs and Capacities
The 75531i has a 171cc, 4-stroke engine has a steel gas tank that holds 1.6 gallons of gasoline. There is no fuel gauge, so you'll have to do your best to figure out when you're getting low on gas. Knowing that you can run for about 8 hours at ¼ load should help your calculations.
The oil capacity is 0.6 quarts. Note that oil is not included in the machine, so be sure to add some 10W-30 before you start it up.
In fact, you might not be able to get it started at all without oil because the Champion features a low-oil sensor to prevent running with no oil – a condition that would severely damage the engine.
Once you have both gas and oil inside, pull the recoil cord. It should start in virtually any weather because it has Champion's "Cold Start Technology" built in.
Once it's running, from the normal distance of 23 feet, you should experience only 58 decibels of noise. Champion compares this to "normal conversation" levels.
With 2800 running watts, you'll conserve fuel and extend engine life through automatic voltage regulation in "Smart Economy Mode".
Keeping It Portable and Easy to Use
This Champion inverter generator comes with solid, 5 ½ inch diameter wheels already attached.
There's a foldaway, U-shaped handle for easy storage and built-in carrying handles for moving it around. Even with a weight of almost 85 pounds, anyone should be able to tote this machine to wherever it's needed. Overall measurements are 22.4 inches in length by 17.3 inches in width by 18.3 inches in height. So, roughly 2 feet long by a foot and a half in the other directions. That's how much storage space you'll need to supply when bringing it indoors.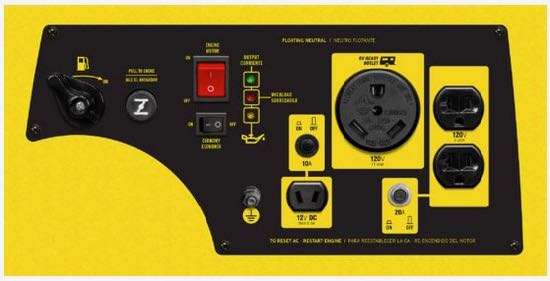 The "Quick Touch" control panel is easy to access and use. Circuit breakers, should you ever need them, are simply the push-to-reset type.
You get a 3-year limited warranty on this machine which is both EPA and CARB certified. California residents can now do their happy dance.
Conclusions about the Champion 3100W Inverter Generator
This, like other machines in its class, is a solid machine. So why should you get this one over one of the other brands?
There are probably two main reasons. One: You can find this one for a lower price than another. Two: You trust the Champion brand over others.
One more reason: Owners says lots of good things about the Champion 3100W generator in their reviews. Join the club!
After doing your due diligence and decide that this generator is the one you want, you can get it via the link below.