Note: I get commissions for purchases made through links in this post.
Champion Power Equipment makes more than one dual fuel inverter generator. In this article, we'll look at two models that are very close to each other size-wise and spec-wise – the Champion 3400W and the Champion dual fuel 3500W inverter generators.
Whether either of these is the best inverter generator in the market is really, really hard to say. There are several that are nearly the same as these. However, Champion has a reputation for quality and dependability that some other manufacturers fail to match.
If you're in a hurry and are just interested in finding the price and availability of either of these Champion inverter generators, you can click (or tap) the links just below.
What's the Difference between the Champion 3400W and 3500W Generators?
The short answer to the question above is this: About 100 watts.
That's almost the long answer too.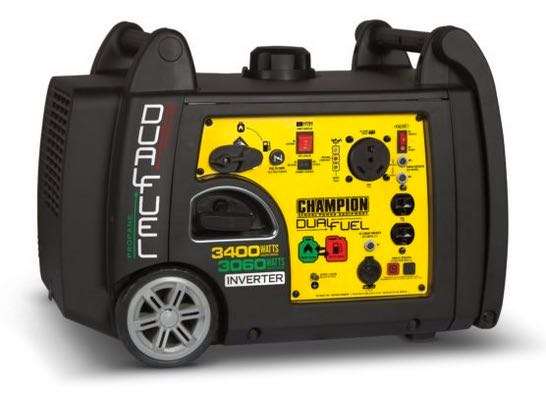 Assuming that Champion didn't mistakenly copy and paste information about the 3400W model onto the 3500W model web page (or vice versa), the only differences I can find are the model numbers and the output wattage.
So, here's how the two compare.
| | | |
| --- | --- | --- |
| | Champion 3400W | Champion 3500W |
| Model number | 100263 | 100264 |
| Gasoline starting watts | 3400 | 3500 |
| Gasoline running watts | 3100 | 3200 |
| Propane starting watts | 3060 | 3150 |
| Propane running watts | 2790 | 2880 |
So, how do you decide which one to get?
Unless there's a sale, the 3400W will cost a little less. If you don't have the cash for the 3500W, go with the smaller machine.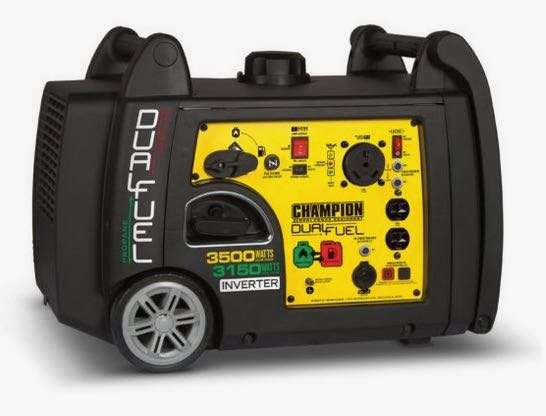 If you add up the wattage you need and find that the 3400W won't quite handle it all, maybe the 3500W will. Recalculate your needs…add twice, buy once.
If your needs are almost double what either of these models can produce, keep in mind that both of them are parallel capable. You can string two of them together with the optional Parallel Kit, as long as the generator you're adding is at least a 2800W machine. In other words, you don't have to get another 3400 or 3500 watt generator to run in parallel.
Other than that, these two machines are exactly the same. Let's take a look at the features and specs they offer.
Features of the Champion Dual Fuel Generators
The most obvious reason for you to consider either of these generators is their dual fuel capability. Out of the box, you can run on either gasoline or propane (LPG).
As noted in the table above, you'll get different wattage results, depending on which fuel you use. You can switch between the two fuel sources simply by turning a selector dial. This means you can have the gas tank filled (1.6 gallons) and a propane tank connected at the same time.
If you run out of one fuel, you can quickly switch to the other, then get more of the fuel you're out of so you can keep running continuously, virtually forever. Run time really isn't a factor if you use a dual fuel generator this way.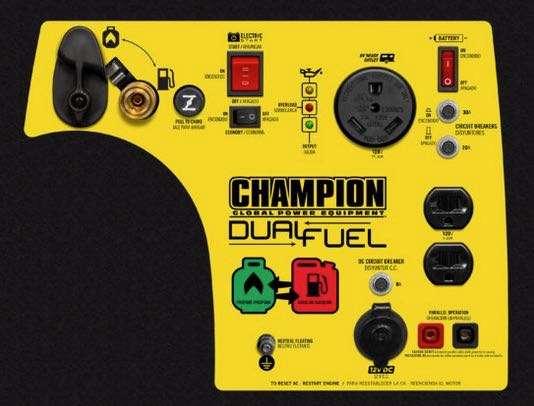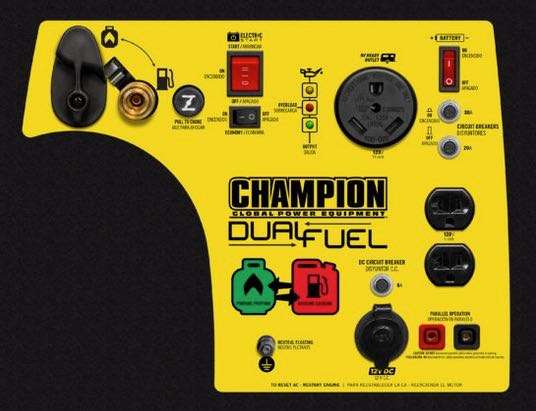 Champion provides a propane hose with a built-in regulator, so you don't have to go out shopping for this necessary accessory.
Especially if you switch to Economy Mode, you should easily be able to run for 7 ½ hours on gasoline and 14 ½ hours on propane at ¼ load. There is no fuel gauge on these machines.
Starting up is easy with the electric start and Champion's "Cold Start Technology". The manufacturer doesn't state exactly what this tech is, simply that these generators have it. In any case, it's good to know it's there if you live in a cold winter climate.
Champion includes the battery with the generator. Not all manufacturers do, though this does seem to be more common these days.
As with virtually all electric start generators, there is a pull cord, recoil backup. You do not get a remote starter with these models.
The other main reason to get one of these Champions is the fact that they are inverter generators. As to noise level, they produce just 59 decibels of sound from the standard distance of 23 feet. Champion says this is quiet enough to be able to hold a conversation nearby and still be heard without shouting.
These generators have an RV outlet so they are RV-ready and can also provide clean power to handle your more sensitive electronic devices and gadgets. Outlets include the following.
One 120V 30A RV (TT-30R)
Two 120V 20A household outlets (5-20R)
One 12V DC automotive-style outlet with dual USB adapter
There are no GFCI outlets or circuit breakers. The outlets do not have covers. Also, there is no automatic voltage regulator.
The 192cc, 4-stroke engine needs oil that you have to provide. The tank holds 0.6 quarts of oil – 10W-30 weight is recommended. There is a low oil shut-off sensor to protect your investment.
To keep these generators portable, you get a foldaway handle, as well as built-in handles and 5 ½ inch, solid, never-flat tires.
Specifications of the Champion Inverter Generators
The generators each weigh 97.5 pounds and measure about 25 long by 18 inches wide by 19 inches high (rounding up for width and height).
These generators are both EPA certified and CARB compliant. You get Champion's 3-year limited warranty and "free lifetime technical support".
Conclusions about the Champion 3400W and 3500W Generators
Both of these Champion dual fuel inverter generators are top notch. Which one you get, as I mentioned at the top, will depend on your funds and power needs.
Owners who have reviewed each of these generators overwhelmingly agree that they are quality machines. There will always be a few detractors, but you should be able to purchase either one of these machines with confidence that you'll get a good product.
Since they are virtually identical in all other respects, if price is not a factor for you, I would suggest getting the larger of the two; that is, the Champion 3500W inverter generator.
Champion 3500W Dual Fuel
Check the pricing and availability of the Champion 3500W
Dual Fuel generator at Amazon.
If you're looking for a wireless version of the 3500W machine, check out this review.