Note: I get commissions for purchases made through links in this post.
I thought this Generac inverter was one of the largest (wattage wise) around until I found the Predator 3500W Super Quiet inverter generator. Most inverters seem to be only about 2000 watts, so to almost double that amount of power is pretty awesome.
Predator generators are produced by Harbor Freight, a popular discount tool and power equipment retailer. They have at least 1000 stores throughout the US and do mail order and ecommerce business as well.
In a hurry? If so, just click (or tap) the link below to check the pricing and availability at Amazon.
Main Benefits of the Predator 3500 Inverter
Other than this inverter generator's size, there's nothing especially special about it. But that's probably enough for you to seriously consider getting one.
As to being "Super Quiet", the Predator 3500 starting watt (3000 running watts) generator produces 57 decibels of noise. (I'm assuming this is at a distance of 23 feet, which is what most manufacturers use as a default rating distance.)
One feature that is really nice is the built-in wheels (casters, actually) – something you don't normally find in a generator this small (power-wise). You'll really appreciate them because the entire unit weighs 100 pounds (technically, 99 and a few ounces).
Additional Features of the Predator 3500 Watt Inverter
If 3000 running watts isn't enough power, you can double that by running two machines in parallel. This is a capability that many inverter generators have these days. It gives you more flexibility for supplying the power you need on various occasions.
One such occasion could be camping in your RV. The Predator has a 30 amp RV adapter included in the package.
Outlets built into the unit are two 120 volt AC grounded, one 120 volt AC twistlock, and one 12 volt DC two prong. These are pretty much standard sockets for plugging in your cords.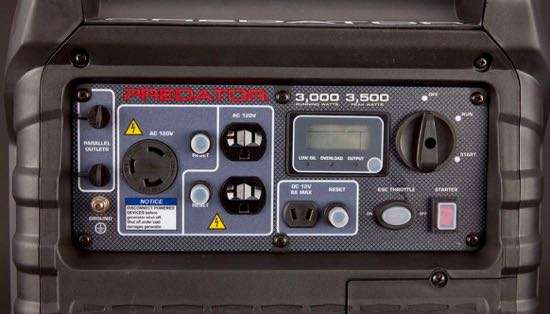 To get it all going, you get an electric starter. Once it's working, at 25% capacity, you should get about 11 hours of power from the 212cc, air-cooled, OHV engine on a full tank of unleaded gasoline.
To help keep you running for many moons, the Predator gives you overload protection and low-oil shutdown safeguards. You can monitor these functions on the digital LCD screen on the control panel.
Specs, Accessories, and Warranty
The Predator 3500W generator is EPA III and CARB certified, so virtually anyone anywhere in the US can use it. (Higher altitude users may need to make appropriate adjustments.)
For storage, you'll need a space at least 20 inches high by 23 inches long by 18 inches wide.
Besides the RV adapter, you also get a DC cable, screwdriver, spark plug wrench, and fuel funnel – nice touches, as not every manufacturer includes these kinds of accessories.
Here is the warranty verbatim.
"We guarantee the emissions control system on your engine will be free from defects in material and workmanship for two (2) years, provided there has been no improper maintenance, misuse, or abuse of your engine. We guarantee this product to be free from defects in materials and workmanship for 90 days from the date of purchase. Limitations apply."
Conclusions about the Predator Inverter
If you don't mind the larger size, you'll appreciate the quieter volume you get in this Predator generator. Compared to other 3500 watt machines, it really seems "Super Quiet".
I'm not sure how well the casters hold up over time. I'm not saying they won't; I just have no experience nor have I found anyone else with enough experience (time-wise) to make a judgment here. You should be fine even in the long run.
Those (few) owners who have reviewed the Predator 3500 really like this machine. You could be one of them soon.
Predator 3500W Generator
Super Quiet Portable Inverter