Note: I get commissions for purchases made through links in this post.
Sometimes you just want options. The Champion 3800W Dual Fuel Generator (#76533) gives you options. You can run it using either gasoline or propane.
Sometimes propane might be all that's readily available to you for the purposes of running a portable generator. Some might simply prefer the benefits of propane over gasoline.
Whatever the case or whatever your situation, the reliable Champion 3800W generator should suit you just fine.
If you're in a hurry and just want to see the pricing and availability of the Champion 76533 at Amazon, you can click (or tap) the link just below.
Champion 3800: A Bit of a Beast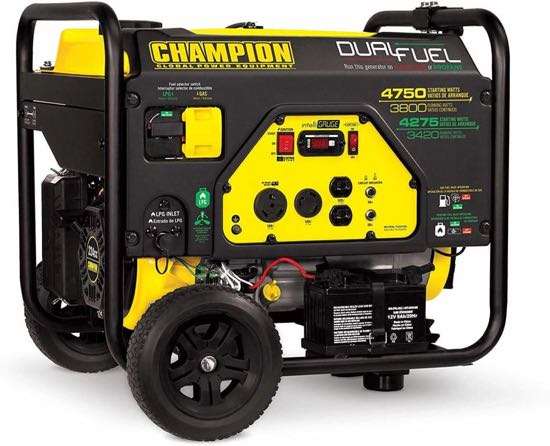 One of the things I like about the Champion Power Equipment generator models is that they give you all the information about the features and specs that they can. You don't always find that info readily available from other manufacturers.
I say that this machine is a bit of a beast because it weighs just under 120 pounds (119, to be exact). To help keep it portable, they do give you a wheel kit made of 8-inch, solid wheels. This weight is to be expected. If you want a generator that churns out 3800 running watts, you need some heft behind it.
With all that power, the Champion 3800W, 224cc engine is "RV Ready". This is the one point that Champion doesn't spell out in more detail. If you intend to use this in your RV, make sure you ask ahead of time exactly what this means. (Sorry, I can't find this info for you. It's probably better to ask someone in person anyway.)
That said, they do tell us that this model can start and run a 15,000 BTU RV air conditioner. It will also easily handle virtually anything you need to run during a power outage.
Champion 76533 Features
As with many larger generators, you get both recoil (pull cord) and electric start options. The battery for the electric start is included in the package. "Cold Start Technology" (again, no details here – probably proprietary info) is built into the machine to help you get going in cold weather.
As mentioned, you can run on gasoline or propane. There's a fuel selector switch that toggles between the two sources. Champion nicely gives you a propane hose to make the tank connection.
Each fuel has its pros and cons. With gasoline, you get 4750 starting watts and 3800 running watts. With propane, you get just 4275 starting watts and 3240 running watts. However, the propane will let you run for 10.5 hours at 50% load, while the gasoline only gives you 9 hours. This assumes you fill the 3.4 gallon gas tank and use a 20-pound propane tank.
As far as oil goes, Champion is thoughtful enough to give you enough 10W-30 oil to fill the 0.6 quart reservoir. They even include a funnel to help with filling it. The machine has a low oil shut-off sensor to prevent your running it into the ground.
Along the same lines, there is an automatic voltage regulator ("Intelligauge") that helps you keep track of usage – voltage, hertz, and runtime hours – for maintenance purposes.
The one gauge missing is a fuel gauge. You can't easily tell when you're low on gas or propane.
When it actually comes time to plug things into your generator, you have 4 options. There is one 120V, 30 amp RV outlet (TT-30R). There is one 120V, 30 amp locking outlet (L5-30R). And there are two 120V, 20 amp "household" outlets (5-20R). Obviously, you don't have to use the household outlets strictly for appliances in your house. Champion says you can trust their "Volt Guard" surge protector to prevent overloads. Hopefully this feature will never let you down.
Additional Champion Features You'll Want to Know About
Working along with the never-flat tires, the unit has a foldaway handle that makes it relatively easy to store in your garage or tool shed.
Champion doesn't claim that this is a quiet machine. Any generator this size or larger is going to make some noise. There's really no way around that. This one produces about 68 decibels of sound at a distance of 23 feet. They say that's "about as loud as a vacuum". My traditional-style vacuum is rather loud, so you should expect this generator to be heard – even from a distance – as well.
The unit is EPA certified, for those who care about such things. California residence will be happy to learn that it's also CARB compliant.
Finally, Champion includes "3-year limited warranty with free lifetime technical support from dedicated experts". I haven't had the opportunity to test the quality of their support. Hopefully you'll never need to either.
One more thing, so you know how much space to reserve for storage, the generator unit measures just over 26 inches long by almost 25 inches wide by almost 23 inches high. So figure – very roughly – a 2-foot cube.
Verdict on the Champion 3800W Dual Fuel Generator
This is a very popular generator. There are several good reasons for that. I've mentioned virtually all of them above.
I find it interesting that, even though this isn't the quietest generator in the market, it still is liked by hundreds (at least, and probably thousands) of owners. It has one of the highest overall ratings you'll find for generators in this class and price range.
You could be the next owner to like it too.
Click here to get your Champion 3800W Portable Generator at Amazon now.