Note: I get commissions for purchases made through links in this post.
This little unit, the Suaoki S270 Portable Power Station, isn't in the same category as the vast majority of portable generators here at GenPowr. It's so small you can hold it in the palm of your hand, and it's not meant to replace major power sources like the grid.
In this review, I'll show you what the Suaoki S270 is intended for and how you might use it, especially while traveling.
If you're in a hurry and just want to check the pricing and availability of the Suaoki Power Station at Amazon, you can click (or tap) the link just below.
Compact Portability for Your Small Devices
As you can see in the illustration below, the S270 Power Station really does fit in your hand. Not that you can wrap your hand around it, but you can easily carry it in one hand because of its small size and light weight.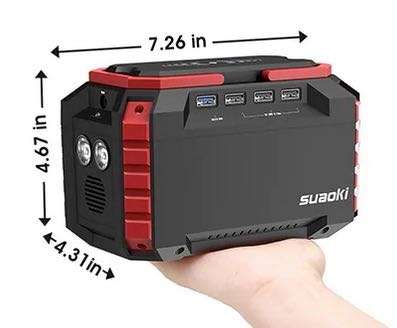 The charging unit measures about 7.3 inches by 4.7 inches by 4.3 inches and weighs just under 3 pounds. If you need them, you can pull out either or both of the collapsible handles to carry it around.
There are a total of 13 ports on the power station. Here is what's connected to this 150Wh, lithium battery pack.
For input:
One AC adapter: 15 volts / 2 amps
One car charger: 12 volts
One solar panel: 13-22 volts (minimum 30 watts) 3.5 x 1.35mm
For output:
Four DC output ports (12 volts / 10 amps; maximum 15 amps in total)
Two AC outlets (110V) – one 2-prong, one 3-prong
One QC 3.0 USB fast charge port (up to 18 watts)
Three standard USB ports (5 volts / 2.1 amps)
It's especially the USB ports that tell you this charger is made for your smaller electronic devices such as your phone, laptop, and/or tablet. This also works well for small fans, mini coolers, LED lights, cameras, and even drones. I'm sure you'll find many more uses too.
When the power station itself only has a little juice left, you have 3 options for recharging it. You can plug it into a standard 110V wall socket. You can use the appropriate cable (included) to attach it to your vehicle's cigarette lighter. And if neither of those is available but the sun is, you can power up using either the 60 watt or 100 watt solar panel kit.
For a complete zero power to full force recharge, you'll need to allow about 7 to 8 hours using a wall charger and 11 hours using the car adapter. Since you probably won't be running your vehicle for that length of time, be sure to plan ahead accordingly. When charging with solar panels, the time will depend on cloud cover and the angle of the panels to the sun, plus the angle of the sun to the earth itself. Again, plan ahead.
The Suaoki power station has a battery management system that controls the voltage and temperature to protect your devices. You shouldn't have to worry about overcharging or overheating ruining your electronics.
In addition to all this, the unit has 2 flashing lights for emergency (roadside) use. It also has 2 status indicator lights that show you (relatively) how much juice remains in the battery.
Where Would I Use This Suaoki Power Station?
The list of places or times you might use a power station like the Suaoki S270 is probably endless, but I'll give you a few suggestions.
It's obviously meant for traveling, so you could use it while camping, fishing, hunting, and hiking. Sports fans will use it for tailgating. Music fans can use it at (outdoor) concerts and festivals. The more adventurous might use it for cave exploration or while living in a van (down by the river).
What You Get in the Package
A complete S270 package includes these items.
Suaoki S270 portable charging station
DC car charger adapter cable (to charge your S270 while driving)
MC4 cable (to charge your S270 via solar panels)
AC adapter (to charge your S270 via a wall outlet)
DC cigarette lighter adapter (to charge your in-car DC devices)
User manual
Note that the solar panels needed for that method of recharging are not included here.
Conclusions about the Suaoki S270 Power Station
As long as you don't overestimate the amount of power this battery can produce or the time needed to recharge it, you should find the S270 Power Station very useful while traveling. Current users who have had problems with the unit didn't estimate properly.
The vast majority of current owners, however, are more than pleased with their purchase. I think you will be too.
For an alternative, see a review of the Rockpals Power Station here.
Get your own Suaoki S270 Portable Power Station at Amazon today.
If the S270 is unavailable, check out the slightly larger and more powerful Suaoki S370 via the link below.