Note: I get commissions for purchases made through links in this post.
The Generac GP3000i inverter generator is much like its smaller cousins – the iQ2000, the iX2000, and the GP2200i – except that it's…well…bigger and more powerful. That's where the "3000" comes in.
Let's take a quick look at what's different with the GP3000i from Generac so you'll be able to tell why you should get one before your next outing.
If you're in a rush right now and just need to check the pricing and availability at Amazon, you can click (or tap) the link just below.
Generac Likes Its Trademarks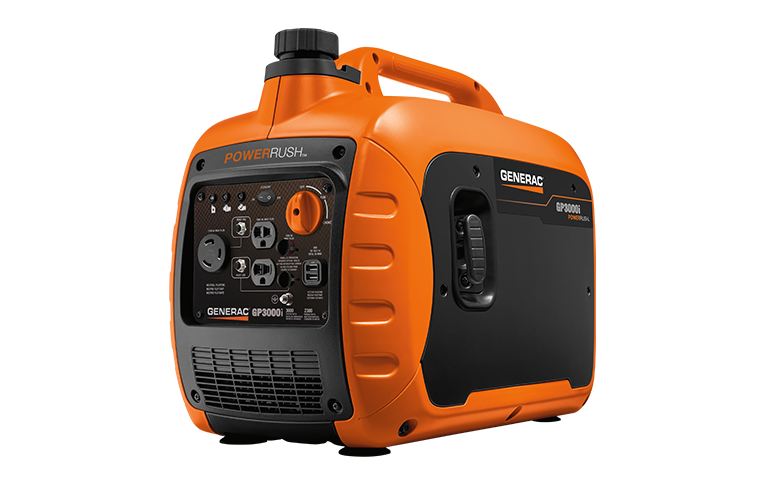 "PowerRush", "True Power", "PowerDial" – Each of these is a trademarked term for a feature of this Generac inverter machine.
"PowerRush", they say, "delivers over 50% more starting capacity allowing you to do more with less".
What does that really mean? 50% more than what?
On the Generac website, there's an asterisk at the end of that phrase but no footnote to explain it. You have to dig a little further to find the reference on the downloadable brochure.
There it says, "Increases electrical current upon demand; above rated output when starting electric motors".
That's still not extremely helpful or clear. I think it means that you can get 50% more than the "normal" starting wattage, but don't quote me on that. I also can't tell you how to increase the current "upon demand". Sorry.
Don't get the idea from this that "PowerRush" is a bad thing. It's good. It's just not clear how it all works.
"TruePower" is a little more straightforward. It's simply Generac's term for providing clean power especially for your handheld devices like phones and tablets. There are 2 USB ports for that purpose.
The "PowerDial" is a nifty feature. It gives you choke, run, and off settings all in one place; that is, on one dial. It's normal to only need one of these settings at a time, so putting them all together makes sense.
Other features include an Economy Mode that adjusts the speed of the engine to automatically save fuel and run more quietly when you don't need its full power capacity.
Being a larger inverter generator, this is not exactly a lightweight unit. It weighs 60 pounds, but if you're strong enough, you can tote it around using the built-in handle. After all, this is supposed to be a portable generator.
The GP3000i generator is parallel ready, but you probably won't need a second one. If you need that much more power, you might be better off getting a larger model from the start.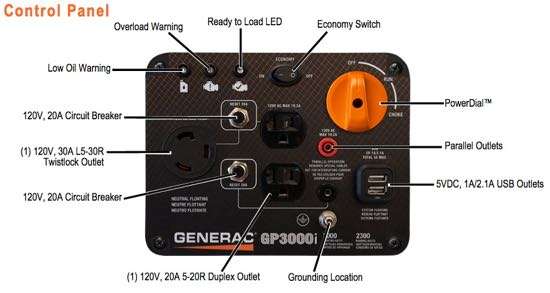 Generac includes oil (10W-30 or SAE 30 is recommended), an oil funnel, an appropriate tool kit, and the owner's manual with your purchase.
Finally, on the control panel, you'll see several status lights. You get a low oil warning light, an overload light, and a ready to use LED. They're there to protect your investment from damage. Note that the machine will automatically shut down if there is too little oil left inside the 0.6L tank.
Generac GP3000i Specs and Warranty
Following are the more important specifications of the GP3000i.
AC Rated Output Running Watts
2300
AC Maximum Output Starting Watts
3000
Rated AC Voltage
120
Engine Displacement (cc)
149
Engine Type
OHV
Starting Method
Recoil Pull
Fuel Tank Capacity (gal.)
1.06
Run Time at 50% of Rated Load (Hours)
4.5
Run Time at 25% of Rated Load (Hours)
5.8
Receptacle Types
(1?) 120V 20A 5-20R Duplex
(1) 120V 30A L5-30R Twist Lock
(2) USB
Length (in.)
22.2
Width (in.)
13.3
Height (in.)
18.4
Note: The documentation says there is only one 5-20R outlet, but it sure looks like there are two.
The warranty period differs, depending on whether you use the GP3000i inverter for residential or commercial purposes. The residential warranty lasts 3 years; the commercial goes for just one year.
Conclusions about the Generac GP3000i
I haven't said much – nothing actually – about the noise level of this machine. Being an inverter, it is quieter than most, almost by definition. Generac doesn't provide decibel levels for their generators, claiming that there's no standard (even though there is a de facto standard that virtually all other manufacturers use).
It should be among the quietest of the 3000W generators you can get. It will be louder than a 2000W but softer than a standard, non-inverter model.
Overall quality should be just as good as any generators that come from Generac. Some may argue that that isn't saying much, but Generac does have a good reputation for its machines.
And hundreds of current owners agree that this is a wise purchase. Share in their wisdom by getting one for yourself today.
Generac GP3000i
Check the pricing and availability of the Generac GP3000i Inverter generator at Amazon.
If the GP3000i isn't quite what you need, check out these Generac models instead.