Note: I get commissions for purchases made through links in this post.
Powerhouse (not to be confused with Powerhorse from Northern Tool) makes a full line of portable generators. In this review and overview, I'll look at four of them at the lower end of the power spectrum.
In general, you won't shell out as much for one of these units as you would for a Honda or a Yamaha, but are the Powerhouse portable generators worth the price? Let's look at what you get and what other owners have said about them to help you decide whether you want to get one of these machines for yourself.
If you're in a hurry and just want to check the availability and pricing of these Powerhouse inverter generators on Amazon, you can click the links in the list below.
If you want to click ahead to a specific section of this article, you can use the links in the box below. Otherwise, just scroll and read as usual.
How Do These Powerhouse Generators Compare to Each Other?
I'll start by giving you a side by side comparison of these 4 generators so you can see at a glance what you get with each of them. Then you can more easily zero in on the model that is best suited to your needs.
Check out the specifications and features of these Powerhouse inverters in the table below.
| | | | | |
| --- | --- | --- | --- | --- |
| Model | 1000Wi | 2000Wi | PH2700PRi | PH3100Ri |
| Rated AC Output (W) | 900 | 1900 | 2600 | 3000 |
| Runtime at 1/4 Load (hrs.) | 6.9 | 8.2 | 7.2 | 13.1 |
| Decibels | 67 | 66 | 67 | 65 |
| Choke | Manual | Manual | Auto | Auto / Electric |
| Fuel Tank Capacity (gal.) | 0.78 | 1.4 | 1.4 | 4.4 |
| Displacement (cc) | 53 | 125 | 150 | 270 |
| Overload Reset Switch | No | No | Yes | Yes |
| Primer Bulb | No | Yes | Yes | No |
| Receptacles | One 120 V, 20 A 5-20R Single | One 120 V, 20 A 5-20R Duplex | One 120 V, 20 A 5-20R Split Duplex | One 120 V, 20 A 5-20R Duplex; One 120 V, 30 A L5-30R |
| Starter | Recoil | Recoil | Remote Electric; Recoil | Remote Electric; Recoil |
| Weight (lbs.) | 33 | 62 | 80 | 129 |
| H x W x D (in.) | 17.25 x 10.75 x 20 | 19.1 x 11.3 x 21.3 | 17 x 13 x 22.8 | 20.5 x 17.8 x 23.6 |
Each the inverter generator models described here have an automatic low oil shutdown feature. This protects your investment from seizing up due to lack of oil.
These all have electric circuit breakers that are inverted controlled and mounted on the main panel. This is another protection mechanism in case a surge of power would be sent through the lines.
Finally, each of these gas powered machines have a fuel economy switch that does its best to conserve gasoline, based on power usage.
I assume that, since these features are found on these lower end models, the higher end models would have the same.
Powerhouse 1000Wi
Check out the video below to learn about the 1000Wi in particular and the entire line of Powerhouse generators in general.
Powerhouse says you could use this 1000Wi (pronounced, one thousand wee) at your job site, but you'd only want to tote it there if you had small power tools or a computer tablet or something similar that needed power.
The Powerhouse 1000Wi does give you "pure sine wave AC output", so you should be able to use it even with sensitive equipment, such as computers, phones, etc.
Powerhouse 2000Wi
The 2000Wi has a built in carry handle. It weighs 62 pounds, yet Powerhouse says that it "is easy to transport." While it's a different shape and size, I know what a 50 pound bag of salt is like to transport. It's not what I would call "easy". So I have a hard time imagining that this generator, even with the built in handle is "easy" to carry around.
"The 2000Wi is quiet enough to meet National Park Service Guidelines." That should be true of all four of these machine then, since they all fall within the 65 to 67 decibel range.
Unfortunately, the 2000Wi has as many 5 star as 1 star reviews at Amazon. Some owners just haven't had good luck with this machine. It just may be that they didn't get a brand new generator in some cases but ended up with a refurbished one instead. Sometimes it's hard to tell.
Powerhouse PH2700PRi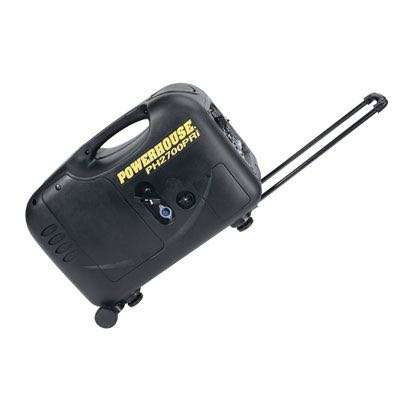 When you move up past 2500 watts of power, you get some features that work nicely together like a remote electric start, fuel primer bulb, and automatic choke. With these three working together, getting the PH2700PRi should be a breeze.
Once it's running, you can set the engine to run either at variable speed (based on need) or at a constant speed so you get maximum power.
And as Powerhouse says, "Using an optional parallel kit, this parallel-ready generator can be combined with another PH2700PRi to produce a maximum output of 5,200 watts." This gives you plenty of power when you need it, and also gives you the flexibility to power two separate areas at once.
Powerhouse PH3100Ri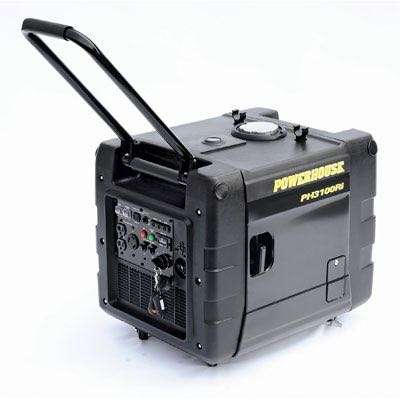 Three features (besides the increased power) especially set the PH3100Ri apart from the portables mentioned above.
Since this unit weighs about 130 pounds, it's not one you're going to pick up and put it the back of your truck – at least, not by yourself. That's one of the reasons it comes with 4 (factory installed) wheels and a fold-down handle. That way you can still call it a portable inverter generator.
The second new feature of this model is an hour meter that you can use to track the total run time of the engine. This helps you gauge how much fuel is left so you can better prepare for future needs.
Finally, if you are an RV owner, you'll appreciate the fact that the PH3100Ri can run a 13.5K RV air conditioner. It may not be a generator you want to take on every trip (again, 130 pounds), but it's good to know that it can handle the load when needed.
What's the Verdict on Powerhouse Generators?
The Powerhouse line, a black encased portable inverter generator, unfortunately doesn't rate all that well at Amazon, as I hinted at above when discussing the 2000Wi.
When a model gets a few dozen reviews, it's hard for its rating to get above 3 stars out of 5. Several reviewers hinted that the relative cost, compared to a Honda (link to Honda EB series reviews) or Yamaha (link to Yamaha inverter review) might have something to do with it, as in, you get what you pay for.
For the price you do pay, a Powerhouse (and again, don't confuse this with Powerhorse) may be worth a closer look. I would try to make sure that you can easily get the machine repaired or replaced should the need arise.