Note: I get commissions for purchases made through links in this post.
Winco portable generators are top notch. Winco makes several lines of generators. In this article, we'll take a look at what they call their Home Power models. There are three of them that can give you a maximum output of 6000, 9000, or 12,000 watts to supply power to your home in time of need.
A big advantage of these models is that they all run on more than just gasoline.
If your interest is piqued but you're in a hurry and just want to check the pricing and availability of these Winco generators at Amazon, you can click any of the links below.
If you want to skip ahead to a specific section of this review, you can click a link in the box below. Otherwise, you can simply scroll and read as usual.
Winco Home Power Generator Overview
Versatile.
EPA certified.
3-year engine warranty (based on reviews from Honda and Briggs & Stratton).
Vapor fuel compatible.
These are some of the characteristics promoted by Winco in reference to these Home Power portable generators. I think, as you'll see below, that all of these features are important and are accurate descriptions of these models.
Besides all that, users acknowledge that they simply work and work well, especially when you really need them.
Comparison of the Winco Home Power Generators
For a quick side by side look at these generators, check out the table below to see the main features and specifications of each.
Model
HPS6000HE
HPS9000VE
HPS120000HE
Max. Power Rating (watts)
6000
9000
12,000
Running Power (watts)
5500
8000
10,800
Engine
Honda GX340
Briggs & Stratton Vanguard
Honda GX630
Displacement (cc)
389
480
688
Fuel Types
Gasoline, Natural Gas
Gasoline, Natural Gas, LP Gas
Gasoline, Natural Gas, LP Gas
Starter
Electric / Recoil
Electric / Recoil
Electric
Fuel Tank Capacity (gal.)
7
7
15
Low Oil Protection?
Yes
Yes
Yes
Run Time – Full Load (hrs.)
7
5.4
9
Run Tim – Half Load (hrs.)
9.9
7
14.5
Receptacles
2 120V 20A NEMA 5-20;
1 120/240V 30A NEMA L14-30
4 120V 20A NEMA 5-20;
1 120/240V 30A Locking NEMA L14-30
4 120V 20A NEMA 5-20;
1 120/240V 30A Locking NEMA L14-30;
1 60A NEMA 14-60
Decibels
72
77
78
Dimensions (in.)
32.75 x 22.5 x 22
32.75 x 22.5 x 22
44.7 x 36 x 33
Wheel (kit)
2 wheel dolly optional
2 wheel dolly optional
4 wheel dolly standard
Warranty (Generator / Engine in years)
2 / 3
2 / 3
2 / 3
CSA / CARB Approved?
No / No
No / No
No / No
The following list of features apply to all three of these models.
Maintenance-free electronic ignition system
100% copper windings
Dampers and skewed rotors for less than 6% harmonic distortion
Capacitor excitation
Brushless operation
Circuit breaker protection
Heavy duty wrap-around tubular steel cradle
Vibration isolation for smooth operation
| | | |
| --- | --- | --- |
| Winco HPS6000HE | Winco HPS9000VE | Winco HPS12000HE |
Fuel Receptacle Package with Circuit Breaker Protection
On the Winco site, they state for each of these models that one of the "Additional Features" is a "Fuel receptacle package with circuit breaker protection." I could find no detailed description of what's in this package, but there is this picture: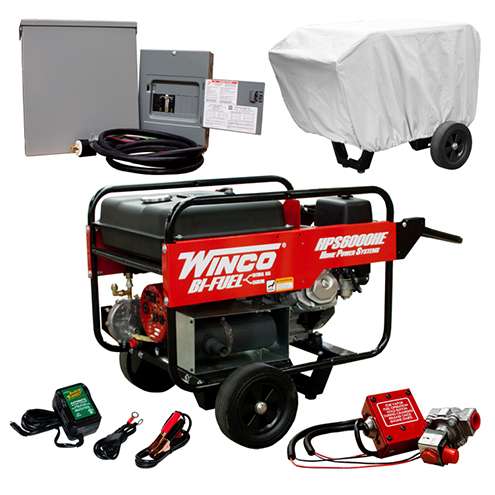 If this shows everything included in this package, then besides the generator itself, you should get a transfer switch (for connecting the unit directly to your home), a cover to keep the elements away, battery charger, and low pressure solenoid kit.
The picture also seems to imply that you would get the (optional) 2-wheel dolly kit too. Since this is specifically noted as "option" elsewhere, I'm not sure what to make of all this. I would suggest that you contact the seller before making your purchase to see just how much, if any, of these accessories are included.
In other words, I could be totally wrong about this "package".
What Do Owners Say about These Winco Generators?
Virtually all owners have little but praise for Winco Home Power generators. The first comments below refer to the largest model, the HPS12000HE.
"The engine on this is probably the best gasoline powered unit available. The Honda GX630R will last a very, very long time, especially if you use synthetic oil. It simply is not going to let you down when you need it most. It starts right up, runs as it should, and puts out lots of power.

The generator itself is an Italian made Mece Alte. These are high end units, much better than the Chinese generators on almost every Home Depot, Lowes, generator. All the breakers, outlets, etc., are top notch with no scrimping to save a few pennies."
There is one small downside to having a 50A generator.
"50 amp parts are readily available, 60 Amps are not unless you go special order."
If you intend to run on liquid propane (LP) gas, be prepared to use a lot of it, if you need to power your appliances and gadgets for a while.
"The recommended propane tank sizes range from 150 – 1,000 gal depending on ambient temperature."
With decibel ratings in the 70s, don't expect these generators to be exactly quiet. That said, one owner wasn't bothered by the noise.
"I was pleasantly surprised that it seemed noticeably quieter than my old Generac GP 5000."
Click here to check out the Winco portable generators at Amazon now.