Note: I get commissions for purchases made through links in this post.
Sportsman has several types of portable generators, including multi-fuels. However, in this review, I'm going to concentrate on three of their gasoline-powered models. These Sportsman gasoline generators come in three common wattage ranges, so you may find one that suits your needs.
But I'm getting ahead of myself. I'll give you the details first, and then you can make an informed decision.
If you don't have time for the details just now and only want to check the pricing and availability of these Sportsman generators at Amazon, you can click the links in the list below. Perhaps you'll have time later to come back and check the particulars.
If you want to skip ahead to a specific section of the review, you can click a link in the box below. Otherwise, you can simply keep scrolling and reading as usual.
Note that Sportsman generators are actually produced by Buffalo Corp.
What Is a Sportsman GEN154 and Do I Really Want One?
A pet peeve of mine related to portable generators is that manufacturers are inconsistent in naming their models.
Sometimes (usually, actually) they will include the surge (aka starting or maximum) wattage that a generator can produce in the model name. Other times they will use the running wattage number. This difference in itself can be confusing.
And then there are times when, even though a number is embedded in the model name, it has nothing to do with the wattage. It leaves you wondering just how powerful a given generator really is. This is the case with the GEN154.
Where does the "154" part come from? This is a 2000 watt starting, 1500 watt running generator. The "15" is kind of similar, but not really. Why Sportsman couldn't – as they do with the other two generators below – include the maximum wattage in the model name – "2000" in this case – I just don't know. It would save all of us some trouble when trying to make comparisons, and it would preclude the need for my rants such as this one.
To top it all off, based on online reviews, you probably don't even want this machine. There are way too many negative comments for me to recommend the GEN154 to you. Sure, there are a fair number of satisfied customers, but when the number cons come close to the number of pros, it's just not worth the risk, when there are plenty of other similar units available elsewhere.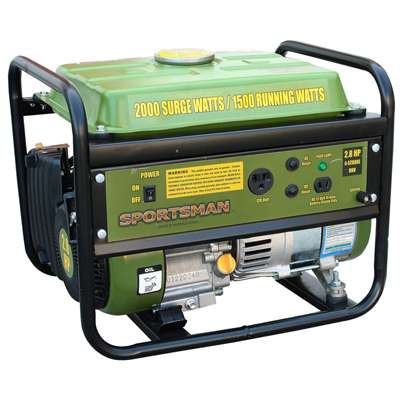 Negative reviews include such things as receiving a unit with broken parts, parts that wear out far too quickly, oil leaks, and more. Granted, receiving a generator with parts already broken could be the fault of the transportation system. That said, you would hope it was originally packaged well enough to withstand the rough handling you know it can get on the way to its destination.
For specifics about the GEN154, see the comparison table below. There are really no other features worth mentioning for this model other than those in that table.
What Makes the Sportsman GEN4000 and GEN7000 Worth Looking At?
Again, for most of the particulars, check the table, but there are a few additional items to mention for each of these models that are not available in the GEN154.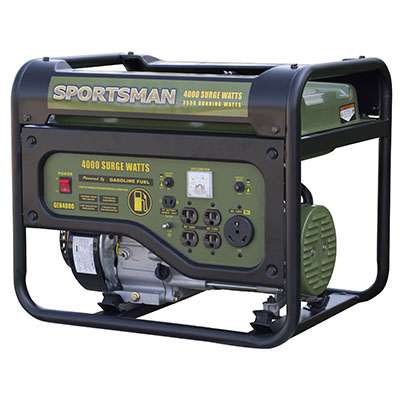 The GEN4000 features automatic low oil shutdown. You won't need to worry about the engine trying to run with no oil. That said, none of these generators comes with any oil in the case. You will need to purchase some separately and fill the machine before your initial run.
The GEN4000 has the best overall reviews online. Owners are very satisfied with their machines. It's actually almost impossible to find any down side to the GEN4000.
The GEN7000 has more features than either of its smaller siblings, but it has more mixed reviews as well.
In addition to the automatic low oil shutdown, you also get an automatic voltage regulator and a "mobility" (aka wheel) kit. This generator is large enough that, to keep it truly portable, you need wheels to roll it around from site to site.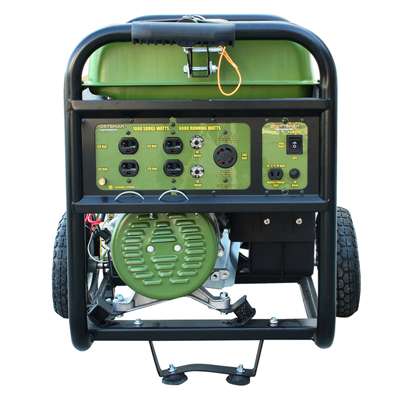 As is true of many larger generators, the GEN7000 has an electric starter with a recoil backup. Note however that there is no battery included with your purchase. You need to get a battery that measures 7 ⅛ x 6 x 3 inches (L x W x H) and has a minimum of 130 cold cranking amps (CCA).
How Do These Sportsman Generators Compare to Each Other?
The following table shows the most significant features and specification of the GEN154, the GEN4000, and the GEN7000. There are some commonly-given numbers, such as dimensions and weight, that I was not able to find. You can figure that they are roughly equal to similar models from other manufacturers.
Model
GEN154
GEN4000
GEN7000
Engine HP
2.8
7.0
13.0
Surge / Starting Watts
2000
4000
7000
Running Watts
1500
3250
6000
Starter
Recoil
Recoil
Electric / Recoil
Receptacles
1 120V AC outlet;
1 12V DC outlet
4 120V AC outlets;
1 12V DC outlet;
1 120V RV outlet
4 120V AC outlets;
1 12V DC outlet;
1 120/240V outlet
Engine Shut-off Switch?
Yes
Yes
Yes
EPA Approved?
Yes
Yes
Yes
Run Time (hrs.)*
11
10
12
Fuel Tank Capacity (gal.)
1.8
3.6
7.0
Decibels
< 65
< 69
< 80
Warranty (years)
1
1
1
*Rated at half load
Conclusions about the Sportsman Gasoline Generators
As I mentioned above, you should probably stay away from the GEN154, unless you're willing to take a gamble involving between $200 and $300.
The GEN4000 sounds like a very good machine, if it will power everything you want it to. If not, you may need to look at the (significantly noisier) GEN7000 or look to another line or manufacturer altogether.
Click here to check the pricing and availability of the Sportsman GEN4000 generator at Amazon.
Click here to check the availability of the Sportsman GEN7000 at Amazon now.