Note: I get commissions for purchases made through links in this post.
Mi-T-M, which I suppose is pronounced, "Mighty M", makes many types of power equipment. Among their productions are the Mi-T-M 3000W and 5000W gas generators that you might be interested in.
Mi-T-M is located in a small town in Iowa called Peosta, which is a few miles west of Dubuque. According to their website, this is how the company got its name.
"In 1971 the Mi-T-M Corporation was founded by A.J. Spiegel, a professional paint contractor, who recognized the need for a portable pressure washer. He used his vast knowledge of equipment to design and build an efficient 1000 PSI pressure washer. The self-contained, gas-powered unit quickly became known as the "Mighty 1000." It wasn't long and the name was abbreviated to "Mi-T," paired with the Roman numeral "M" and became the company name…Mi-T-M."
Mi-T-M portable gas generators come in several flavors. If you're in a hurry and just want to check their pricing and availability at Amazon, you can click the links in the list below.
GEN-3000-1MK0 (unavailable as of August, 2020)
If you'd like to skip ahead to a specific section of this review, you can click a link in the box below.
What Are the Differences Among the Mi-T-M Gas Generators?
There are five models listed above, but there are really only 2 significant differences among them.
The first you can see in the number in the middle of the model name. Two generators produce 3000 watts of starting power, while the other three each give you 5000 watts.
The other difference you can also see in the model name by looking at the letter just before the zero at the end. That letter, which is either an H, a K, or an S, tells you what brand of engine is used in the generator.
H stands for Honda. K stands for Kohler. And S is for Subaru. Within a given wattage, this engine brand is the only difference between or among the models.
With that information, let's take a look at a comparison chart of all of these Mi-T-M portable generators. The table below compares the 3000 watt models to the 5000 watt, leaving out engine-specific data which I'll discuss briefly later.
Models
GEN-3000-1MH0 / 1MK0
GEN-5000-0MH0 / 0MK0 / 0MS0
Max. / Starting Watts
3000
5000
Rated / Running Watts
2450
4400
Alternator
Brushless 120V, 60Hz
Brushless 120V / 240V, 60Hz
Max. Amps (120V / 240V)
25.0
41.7 / 20.6
Continuous Amps (120V / 240V)
20.4
36.7 / 18.3
Receptacles
One 120V, 20A GFCI duplex outlet
Two 120V, 20A GFCI duplex outlets;
One 120V/240V, 20A twist lock outlet;
One 120V, 30A twist lock outlet
Circuit Breakers
One 20A push button
Two 20A toggle, single pole;
One 20A toggle, double pole;
One 30A toggle, single pole
Rated Speed (RPM)
3600
3600
Decibels
74.8
73.8
Fuel Tank Capacity (gal.)
2.6
5.7
Run Time @ Full Load (hrs.)
7.4
6.8
Fuel Shut-off Valve?
Yes
Yes
Fuel Gauge?
Yes
Yes
Full Power Switch?
No
Yes
Dimensions LxWxH (in.)
25 x 18 x 18
29 x 19.75 x 22.5
Weight (lbs.)
130
176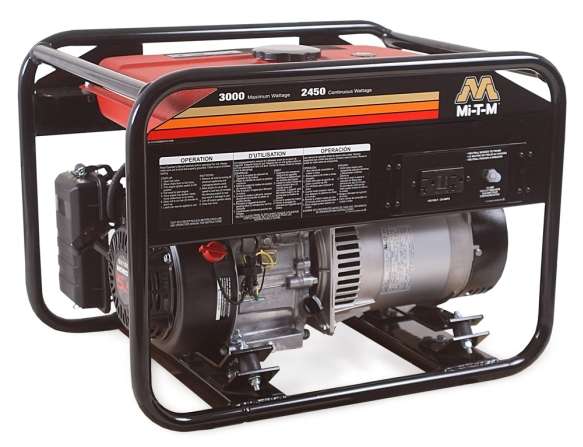 Five different engines are used in these five models.
| | | |
| --- | --- | --- |
| Model | Displacement (cc) | Engine |
| GEN-3000-1MH0 | 163 | Honda GX160 OHV |
| GEN-3000-1MK0 | 208 | Kohler CH270 OHV |
| GEN-5000-0MH0 | 270 | Honda GX270 OHV |
| GEN-5000-0MK0 | 277 | Kohler CH395 OHV |
| GEN-5000-0MS0 | 287 | Subaru OHC |
Which Features Are Common to the Mi-T-M 3000W and 5000W Gas Generators?
In addition to several similar features mentioned in the table above, here are a few more items to note about these Mi-T-M machines.
The alternator produces less than 5% total harmonic distortion (THD), which should allow you to use most electronic gadgets with these generators. The alternator also uses 100% copper windings.
You get spark arrestors that are approved by both the USDA and the USFS, so you can safely use these generators in parks and forests. These units are also CSA certified.
Each model features four neoprene isolators to help reduce vibrations, allowing the engine to perform better and longer. The frame enclosing the unit has 1-inch steel tubing to protect your investment from its surroundings.
What Warranties Does Mi-T-M Provide on the Generators?
All five of these machines have a 2 year limited warranty on the alternator.
Both the Honda and the Kohler engines have 3 year warranties, while the Subaru has a 5 year warranty.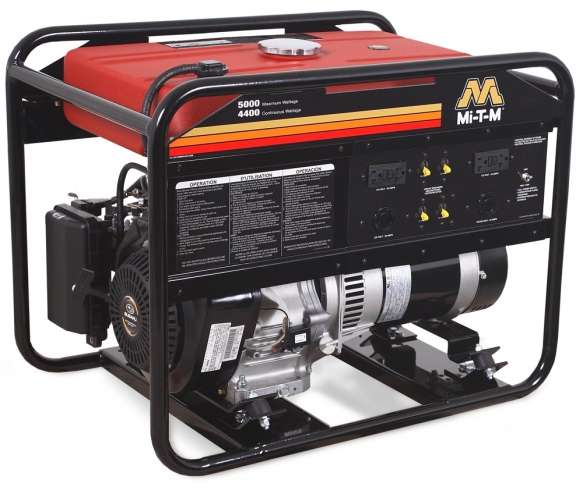 What's the Verdict on the Mi-T-M Gas Generators?
I like the fact that these models are all so similar. It makes them easy to compare and pick the one that suits the situation the best.
The one downside I see is that they are somewhat noisy. They are about 10 decibels louder than generators made by several other manufacturers in the same power output range. If noise will be a problem where you intend to use your generator, you might want to consider a model from a different maker.
If, however, you have decided you like the Mi-T-M brand of gas generators…
To see other generators that use Honda engines, check these Honda models.